L'interview est disponible en français en première page !
After several successful albums on the Japanese metalcore music scene, and dozens of concert dates worldwide, CRYSTAL LAKE are back in France for several shows, and a special apparition in Japan Expo the day after tomorrow, Friday 6th July. Formed in 2002, the band encountered some changes throughout the years, but it didn't stop them from growing up, to finally have today a respected place in the music industry. With four full albums, including the 2016-released "True North", one EP and several splits and singles, CRYSTAL LAKE keep on becoming bigger, and they already announced their next release: the single "The Circle", which will be unveiled next month.
On Japan Expo, CRYSTAL LAKE will have the opportunity to meet their French fans through a signing session and a showcase, and they'll be back on road to go to Toulouse for the last French concert of this summer European tour. For their second headlining French show, which will take place in Petit Bain tonight, CRYSTAL LAKE kindly accepted to answer our questions during an interview! Enjoy!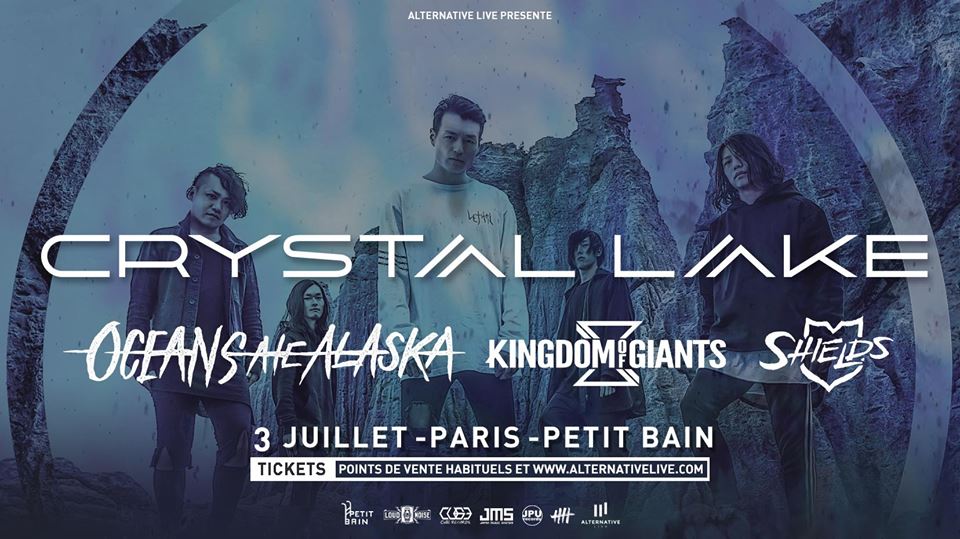 Hi, thank you very much for this interview! At first, could you begin to present yourself?
Ryo: I'm Ryo, the singer.
Shinya: I'm Shinya, I'm playing the guitar.
Yudai: I'm Yudai, playing the guitar.
A few days ago, you started touring in Europe for the second time, how do you feel about being back here in France and to see your fans again?
Ryo: It's good to be back here, people are so fucking crazy. And as before, it feels good, really good.
Yudai: We can visit new places this time, so we're so excited !
You came in Paris for the first time last October, did you think that you'd be back so soon here? What are you expecting from this new European tour?
Yudai: Sing along!
Ryo: Yes, more sing along! [laughs] And more crowd circles!
Yeah, people in Paris are usually loud, so it should be great tonight!
Yudai: Already, it is so crazy there! [laughs] Actually last time, we were so surprised!
Last time in Paris, you played a full setlist, did you change something for tonight for example?
Ryo: Nothing special, but if the fans want to hear something, or request some songs, we'll accept them.
You chose to sing in English to let all the fans around the world understand your lyrics, can't it be a problem from your Japanese fans point of view for example?
Ryo: Yeah, it's one of our problems. Usually, Japanese fans understand the meaning of our lyrics.
Who are the artists who can influence your music?
Ryo: As a vocalist, Morbid Angel, and death metal bands. More old-school death metal bands.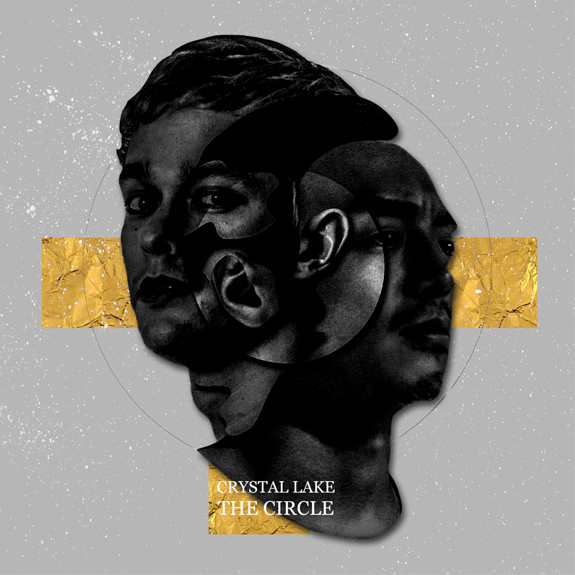 Great collaborations are coming for CRYSTAL LAKE in your next single "The Circle". How did you met the artists you worked with for this single?
Ryo: We've been playing with coldrain for a long time. We were talking about a featuring but this time we could finally do it! It has made a really good song! Then, about Gideon, we toured with them last year and we became family. They said like 'Hey, I wanna sing your song! Text me now!' It was juste like that but then we began the process to make the song, and when the song 'Lost In Forever' was done, the best part [of the song] was Gideon. It was mind-blowing!
Yudai: They are just our friends, coldrain and Gideon! [laughs] Every time we toured in Japan or in another country, we talked about collaborations. We also shared the stage together , so [we met them] while doing concerts.
Last year was the 15th year anniversary for CRYSTAL LAKE, et since then you didn't stop playing concerts around the world. You still have dates scheduled until October, have you already planned something after all these shows?
Yudai: Yeah! We are going to release a new album at the end of this year. So next year, we are planning to tour all around the world. We always play! [laughs]
Can you tell us more about the concepts of your future releases? Have you tried something different this time?
Yudai: Yes, we have!
Ryo: The meaning of 'The Circle' is like a 'cult'. I think the band is like a cult. We compare our band as a cult.
Yudai: We believe in music.
Ryo: We believe in music as a God! We pray to music! [laughs] We are like priests, and we lead crowds.
Yudai: Like a cult, our music is played all around the world.
Ryo: For the ritual, we're spreading our music, we spread our words to all over the world and then we get them involved in our music. It's kind of a joke! [laughs] But we're serious about doing music as a band.
And finally, have you got a message for your French fans here?
Ryo: You are crazy! [laughs] But I love you and I want you to sing along, to mosh, to stage-dive, to do crowd circles, anything you want! In our show, you can do anything you want, anything!
Alright, thank you very much, and keep on rocking!
---
Stay tuned for the live report and the pictures of CRYSTAL LAKE's concert at the Petit Bain in Paris. Don't hesitate to give us your impressions regarding this interview, and of course to share with us what you're expecting from the show tonight! 😉
Thank you Alternative Live and CRYSTAL LAKE
for taking time for this great interview!