Interview en français en première page
SKY-HI, member of the Japanese band AAA, embarked on his "ROUND A GROUND" world tour, and for this special occasion, he held his first concert in France. Right before the show on Glazart's stage, CKJ's team had the opportunity to interview SKY-HI for the first time.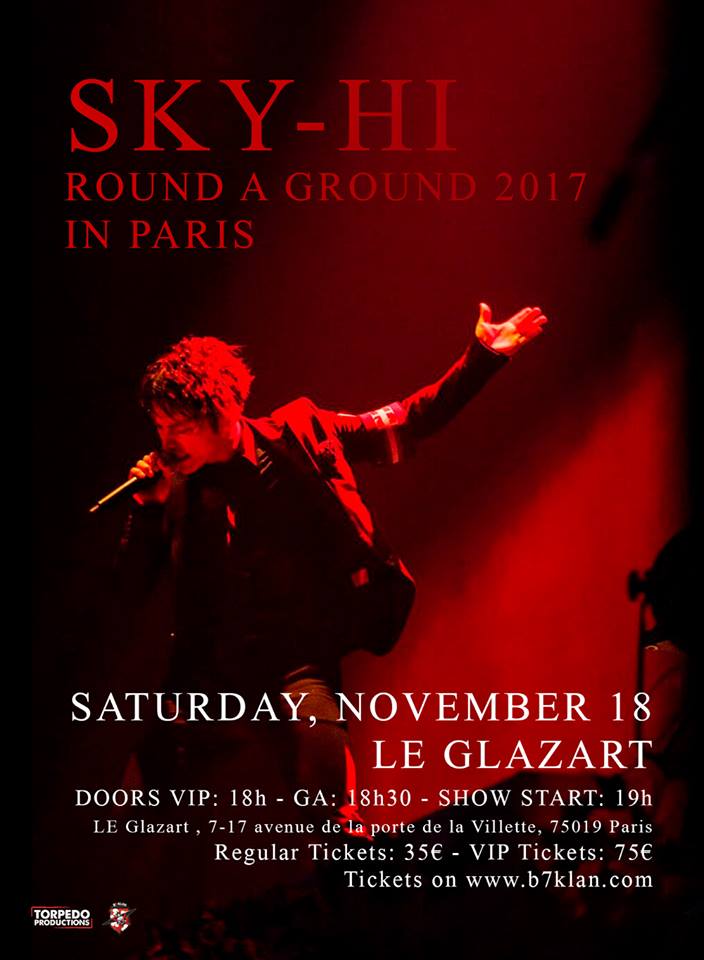 Check it out:
Hi, at first could you present yourself for our readers?
Hi, my name is SKY-HI. I do everything that I can do when I perform to tell the audience the messages I have. I do rap, I dance and sing, and I play instruments. At any means, I wanna do it, because that's what I do for a living. I'm like a singer version of Hamilton, because he also does a lot of things! (laughs)
Tonight will be your first show in Paris, how do you feel about it?
I'm so excited! I've been here 20 years ago, because my cousin is living in Paris. She married a French guy, so now she's still living here. But now, I've already discovered so many new things that I couldn't 20 years ago as a kid. I just arrived here from New York. The only Paris I've seen so far is the way from Charles-de-Gaulle airport to Le Glazart but still, I discovered so many new things! (laughs) It's really inspirational and vivid, yet really exciting! All the graffitis on the wall [editor's note: the front wall of the venue] make the atmosphere really different from any other place in the world. I really like it, because even if it's vivid, it's still also quiet, and really inspirational.
Did you prepare something special for the European part of the tour?
Yeah, I've got so many things prepared for the Europe! I've brought four dancers with me, because I wanted to show to the European audience what I do in Japan. I know it's a really experimental thing, but I wanted to do as much as I can. Also, I played a song during the rehearsal, and some French people knew that song, so maybe I will play that song for the show. I know it's a song kind of popular in France! (laughs)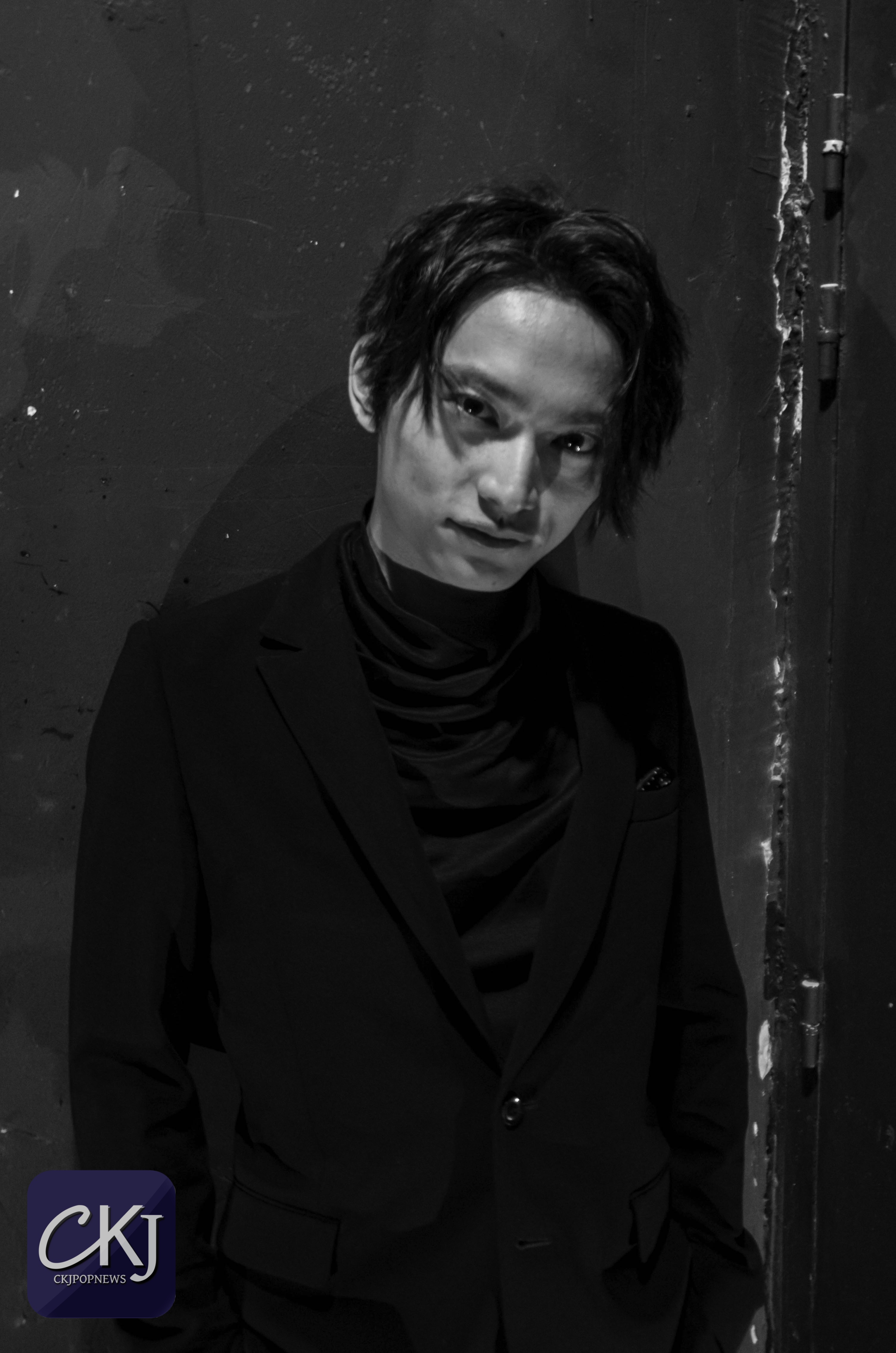 It's not the first stop of your "ROUND A GROUND" tour, but what's your best memory so far on this tour?
When I performed in L.A, one of the guys in the audience came after the show. He praised me and he told me he was really moved by the performance so he took his ring off, and he gave it to me! And it turns out he's a really famous person, it was Cody Sanderson! So, I have a lot of good memories on the tour and it hasn't end yet, but so far this is the best memory I have on this tour.
So this year has been really busy for you with several solo albums, and also with AAA releases, so how do you get all this inspiration?
Making music for me is like something everyone does, it's really natural, like eating or sleeping. So I don't really look for inspirational things, or motivation, because it's so natural in my life. But, I like comics and novels, and that's something that gives me inspiration to make music. I've been reading local comics based on the places I went on the tour, so it's actually really fun to be in the actual location where the comics are based on.
Speaking of your music, your last album "Marble" was released in October. Could you explain the concept of this album?
This album is more like a playlist, like an introduction album to the audience. The audience may not know me well, also because I released the single "Marble". So, is doesn't have a real concept, but it's more like a playlist.
So you've been doing a lot of different music as you told us, like pop or rap. How do you think your carrier will evolve in the future?
In Japan the music market is not only focused on one genre. That's what I'm working on. I'm working on community first, so that I keep on entertaining my audience. I do a lot of things for them not to get bored. But, as I'm maturing as an artist, I think I want to do some things more focused on specific genera, so that I can tell who SKY-HI is. Specifically as I'm touring in Europe, the audience want to know who I am. If I have more specific genera in my play style, I can give them a clear image of who SKY-HI is. With this tour, I could come back to countries I've already been to, so please help me again in the future! (laughs)
To spread your music even more, you also already did a lot of collaboration, have you got another collaboration in mind that you would like to do in the future?
I'd rather want you to introduce me to French local artists that I could work with. One thing that is stuck in my mind is that I worked with an artist in L.A and the part of the work I did was really exciting. I can't tell you who it is yet, but it was really exciting and it inspired me. So I want to collaborate with artists that I don't really know. There are also French artists I would like to work with, like Hocus Pocus, MC Solaar, La Fouine. And I find Shy'm so cute! (laughs)
So apart of these collaborations, have you got any other projects you're working on these days? Or something you would have already planned after for after the tour?
I will continue to perform on the tour when I'll be back to Japan. As a final stage for this tour, I will perform on my birthday with my dancers and band The Super Flyers. After the whole tour ends, I will start making music with the band, there's a couple of music I'm planning. And for the next step, I will start making new things that can spread my messages to the audience, like the countries I visited for this tour. So, I want to show new things!
And this will be our last question, have you got any special message for your French fans?
It's almost unbelievable for me, that there are fans waiting for me to perform in France! There's a physical distance, I can't come to Paris so easily. It's not the same as twenty years ago, now I can know thanks to the internet that I have fans for me here. It's really an amazing feeling to know that and to discover it through internet. Now I can come to Paris easier. There are at least two things I need to do before coming back to Paris as many times as I can. In order to do that, I have to grow up myself, I have to become a bigger artist, so I will come back here many more times when I'll be a bigger artist. I would like to thank French fans for discovering me as an artist. I really want to show my gratitude. Je t'aime! [editor's note: "I love you in French"].
Thank you very much!
Thank you and merci [editor's note: "thank you" in French]!
Today, SKY-Hi is in London for another European date of the "ROUND A GROUND" tour, we wish him the best for the performances left on this tour, and for the future of his carrier!
A live report and pictures of the show in Paris are coming soon, so stay tuned on CKJ!
We would like to thank SKY-HI and his staff for their kindness and their time,
and B7KLAN & Torpedo Productions who made this beautiful concert possible !