She is now used to Japan Expo. Ambassador of the stages, singer Mika Kobayashi returns this time for brand new performances alongside the troup Kamui Samurai Artist. Mika Kobayashi also did us the honor of talking to us during an interview! Enjoy
Hello, can you introduce yourself?
Mika Kobayashi: I am Kobayashi Mika, a composer and a performer.
You are used to the stages at Japan Expo, how do you feel this time around?
Mika Kobayashi: I came for the last time before covid and I felt the atmosphere was different, in a good way! The public is much more interested in this exhibition.
How did your first performances go?
Mika Kobayashi: With these first performances, I found that the French public was very attentive, very attentive to every second, every moment. I am very happy !
You also play alongside the KAMUI ARTIST troupe, how did you come up with this collaboration?
Mika Kobayashi: We have been working together, in collaboration, for more than ten years now. We have the same way of thinking, the same state of mind. This collaboration is going very well!
You are also a true musician, with piano training that began at an early age. Have you ever considered playing another instrument?
Mika Kobayashi: I play a little accordion [laughs]!
How would you describe your music, in three words?
Mika Kobayashi: It's hard [laughs]! Three words ? It's really difficult. What should I choose ? The first is music, combat, and what is not necessarily aesthetically beautiful.
Can you imagine integrating an art other than music into your performances?
Mika Kobayashi: When I was young, I was dancing. So I have experience in dancing, but I will not dance in front of the public. [laughs]
You have performed many anime OSTs. What is your favourite?
Mika Kobayashi: It's hard to choose my favorite! The song that stood out to me the most was Bios for Guilty Crown. I sing there in a new way.
Can you tell us more about this new way of singing?
Mika Kobayashi: All the work is done on my voice. Singing with a beautiful voice is less important than being inspired by choir voices.
In 2016, you founded your own label. How is the freelance work going? Have you changed your way of conceiving and composing music?
Mika Kobayashi: Before the label was created, I worked as a freelancer. This project opens a lot of doors for me, I am much free to do what I want to do.
Can you tell us about your future projects?
Mika Kobayashi: In 2017, I was supposed to release an album with lots of artists, in 6 different languages, but because of the health situation I couldn't. It is this project which is the most current and which will be released soon. I would like to find French artists.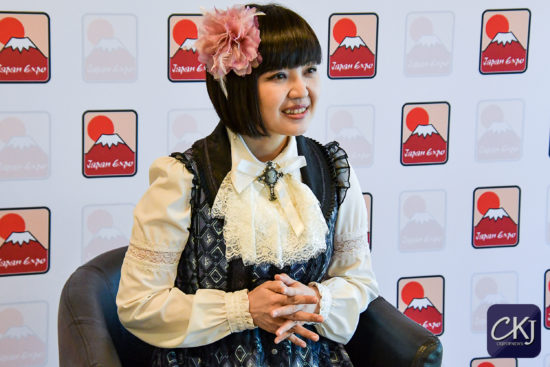 Do you have a French artist in mind?
Mika Kobayashi: No, I don't know any artists, but if you have any recommendations.
A last message to pass on to your fans in addition to a few words in French?
Mika Kobayashi: In French? It's hard ! [laughs] I don't know. I would like to continue to come and perform every year, not only at Japan Expo but also in a concert hall. I hope to come back very soon!
We would like to thank Japan Expo and Mika Kobayashi's team for this interview.