[Version française disponible en page 1]
Hi! Can you tell us about your artistic concept which led you to these costumes, this music and this band name? And talk about your band name's meaning?
blank paper: Hello, we are coming from a virtual world named "534", from the planet "Earth Twin" and we are in blank paper, a band who creates music as a medicine, hence our white blouses. We want to color this white page with our music colors, without caring or limit ourselves to one genre, whether it is pop or rock… We want to paint this blank paper.
Can you tell us about your code name and the role you play on this planet?
C45P3R: My name is C45P3R (editor's note: pronunciation Casper) and it comes from a character I like on my planet. I am composing the music and I am also the male vocalist.

T3R354: My name is T3R354 (editor's note: pronunciation Teresa), my name comes from the God of music from our planet. I am responsible for writing the lyrics and I am also the female vocalist. blank paper is an organization which takes care of creating various medicine through music. Other members and vocalists are part of this organization.
You've spoken about medicine, and High Legacy was chosen as the theme for a wrestling show. Is giving strength and healing people thanks to your music your main goal?
C45P3R: When producing High Legacy, we were asked from a wrestling show (editor's note : "Best Of The Super Jr 29″) to do the theme song. The show was celebrating its 50th birthday. That's why we chose the word "legacy", so that it could keep on going in the future. On the other hand, this theme is important for us to give people strength.
You are also singing the opening theme of the anime Kyoukai Senki, with more than 1 million streams. How do you feel about it?
C45P3R: We are so happy to be this successful, especially for a first song!
You are performing on Japan Expo's stage as the main guest, how do you feel ?
T3R354: We are so happy to be here, at Japan Expo. Our music is very inspired by Japanese pop. From our planet, we've done some researches about everything connected to Japanese culture. Japan Expo was one of the first results, as a main place for Japanese culture among all of the existing planets. Tomorrow, we have a very long performance, but we only have two songs right now so we are thinking of the way we can do full performance. We have a project on Twitter where we're trying to collect people's distressing stories to create a theme and new music. We also intend to do some covers of famous Japanese artists.
Can you reveal some of your future projects?
C45P3R: First of all, we are planning to go to England to increase the number of our adpets, and we are also looking for the stories of our adepts to create music.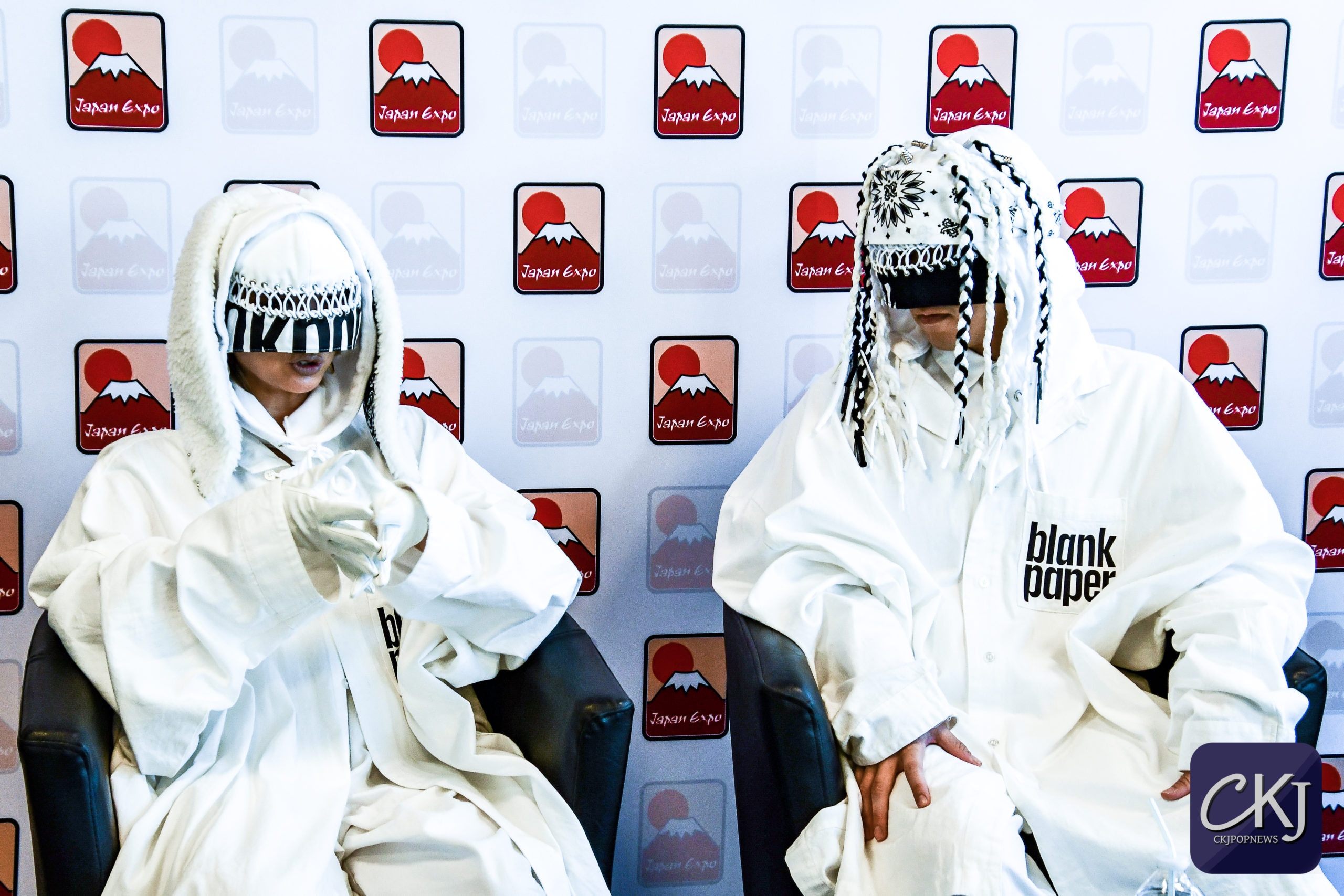 How do you feel about performing in London and Montreal?
T3R354: We are so happy to play on various places on Earth, in London, here, at Japan Expo or in Montreal. We hope we can have much more adepts, those who believe in our music and who have been healed by our songs. But, we first need to succeed at tomorrow's performance, because this success will be a huge determining factor to create our future on this planet. We want to thank you for this interview and we hope it can bring as many people as possible tomorrow.
Do you have a last message for your adepts so that they can discover blank paper's universe?
C45P3R: Tomorrow's performance is really important, we want a lot of people to come so that we can visit the Eiffel Tower (laugh).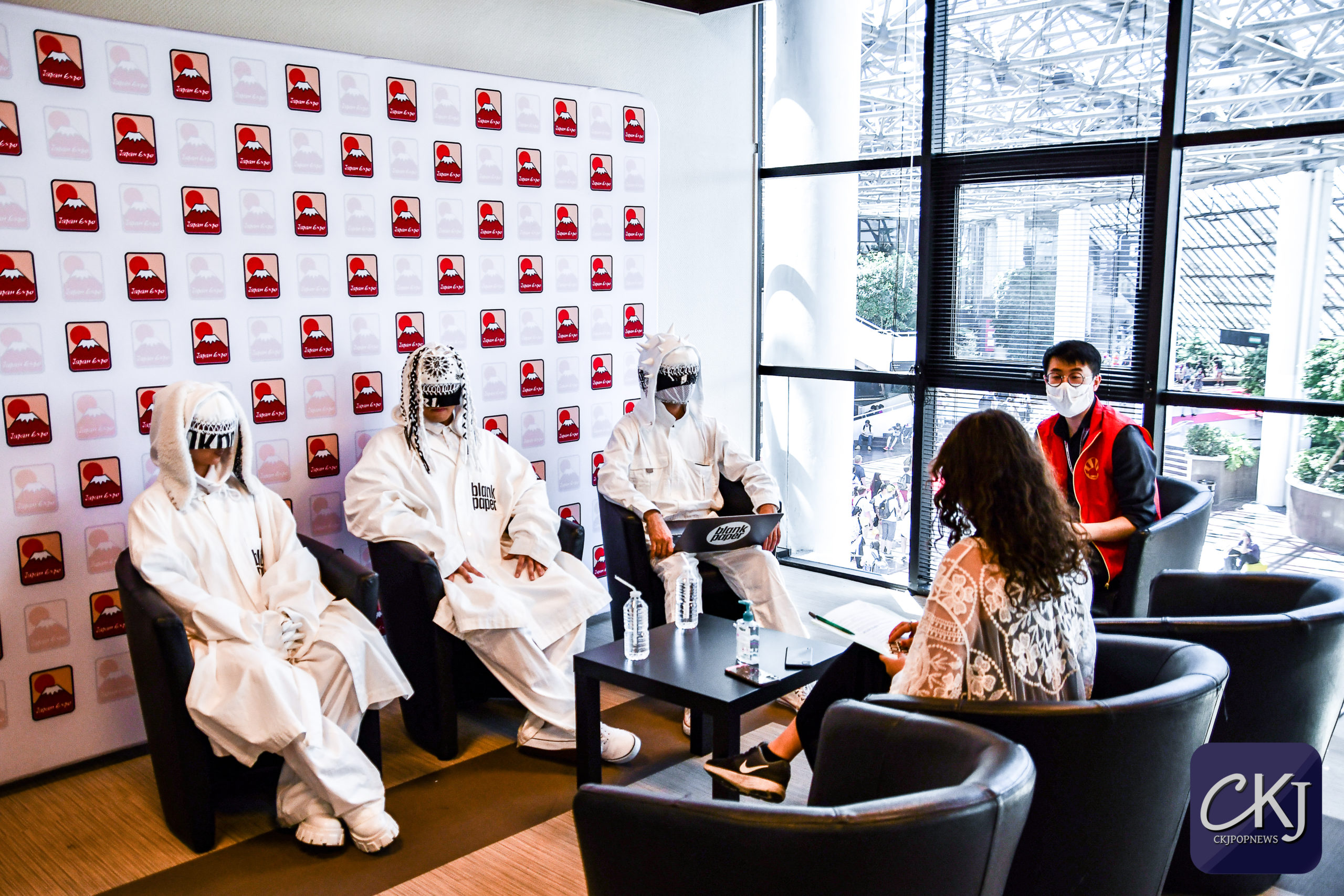 We would like to thank Japan Expo, blank paper and their staff for this interview!