Pour lire la version française de l'interview, cliquez ici !
Japan Expo 2019 ended just a few weeks ago, and we're here today to tell you about a special encounter our team had on the festival, with the three young women carrying the group We=MUKASHIBANASHI.
Despite difficulties regarding its line-up, the group seduced the audience with its tale and legend-based concepts. Besides, it's only a week after their first ever show – sold-out by the way – that the groupe took the crown during Tokyo Candoll, a Japan Expo exclusive competition aiming to produce female idols on the festival. Even though the five girls competed together, only the members Maki, Gashi and Saki came to greet their French fans, following Sana and Yumi's departures. Today, unfortunately two members are left, as Gashi also announced its departure from the group. We still have to know whether the group will only stick with stage members, or if new young women will officially join the group!
Let's find out more with our interview of We=MUKASHIBANASHI!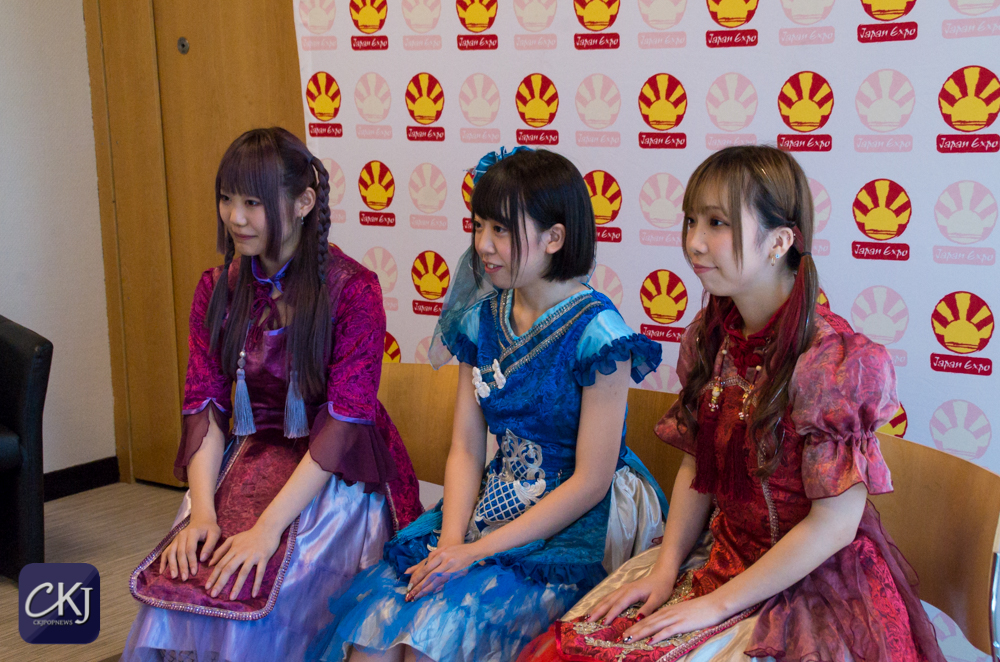 Hello, first of all, can you introduce yourselves?
Maki: I'm Maki, the member with the red color, I stand for Warashibe Choja. It is a rags-to-riches Japanese tale about a boy.

Gashi: I'm Gashi, my color is purple and I stand for Shita-kiri suzume, which is a story about a small sparrow whose tongue was cut.

Saki: I have the color blue and I am Saki. I stand for Saru Kani Kassen, the story of a monkey and a crab.
Can you explain to us the meaning of your group's name?
Saki: Actually, "WE=MUKASHIBANASHI" means "old tale from Japan". It stands for a story which has been told until now. We hope our story to be told by our fans. That is how we ended with this name.
What do traditional tales mean for you?
Saki: For me, it is truly familiar because my mother has been reading me tales since I was a child. I'm really acquainted to this universe. Tales can be shared, because everyone knows them.

Gashi: I really love it! (laughs)

Maki: Warashibe Choja tells the story of a boy who is becoming rich at the end, and there is always a moral at the end of a story, a good person can succeed for instance. It is the same with WE=MUKASHIBANASHI, a moral we can follow.

Gashi: I like old tales, not only the Japanese ones, but also the French ones. Because they were transmitted for a long time. It is very dear to my heart.
You have the motto "Whatever happens, we are still children". Are there any moments you would like to go back to your childhood?
Saki: I'm already 26, and it is true that fans have a warm response when we are performing on stage. It is not easy, it is tough. But I can go back to my childhood, experiencing these pure and light moments, thanks to the group.
When you were children, what were the things you loved to do and that you can not do anymore today?
Saki: Take a bath with my mother! (laughs)

Gashi: I can not climb up the trees anymore, because I feel heavy. (laughs)

Maki : I was a workout addict, so I did not feel pain when I was making efforts. (laughs) I was doing wrestling.
How did you ended up becoming idols?
Saki:When I was young, I was watching idols on TV. I loved singing and dancing, I admired them. And that is how I ended up being an idol.

Maki: It is a childhood dream! I always wanted to be an idol and with insight, I am aware that it is what I always wanted to be, I never thought about being something else.

Gashi: At the beginning, the anime Aikatsu! made me want to become an idol. But today, the motivating factor is to be able to see the happy public in front of me!
You came here at Japan Expo after your victory on the Tokyo Candoll contest, how was it going?
Saki: Actually, we had never participated in this kind of competition before, with winners and losers. The further we got to the semi-final and final, the wider the public was. So we told ourselves that we had a responsibility, and if we happened to lose, we were giving up on all the people supporting us. It felt like a dilemma.
Applying for the contest, did you ever thought about winning?
Maki: At the very beginning, we thought it was too hard, too tough, wondering if we could make it. But when we saw the faces of the people, at this moment, we thought we too had a chance.

Saki: During the final, we were confident about our victory!
So, you must see this experience as a positive one?
Saki: Yes!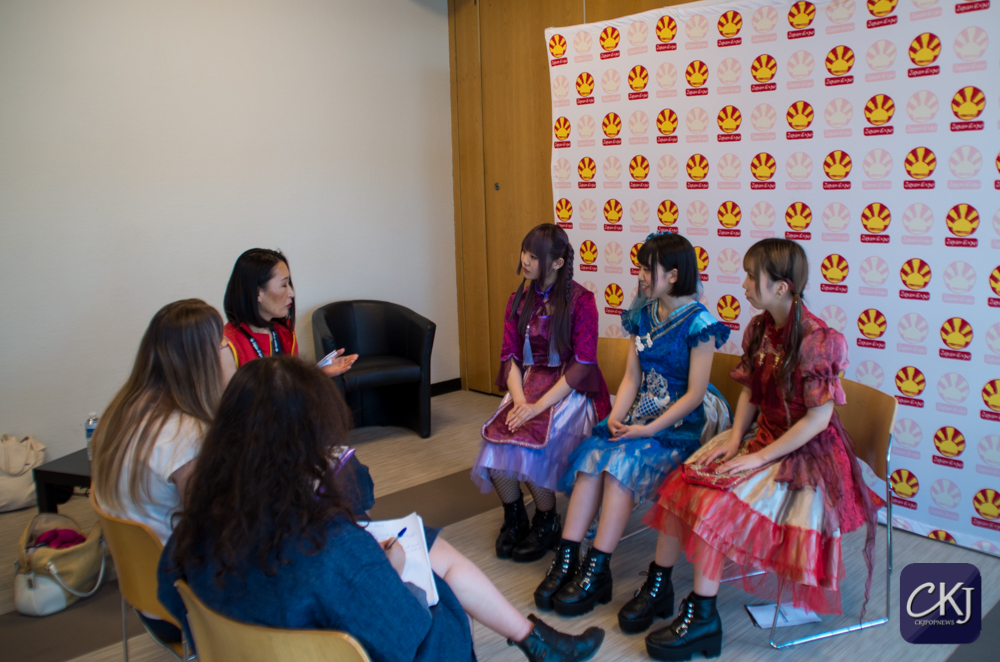 For this first time in Europe, how do you feel?
Saki: It is so surprising they know us already! Before coming here, I published a review on my Twitter account. A person has shared it and we had feedbacks from some people from Japan Expo, telling us they have seen us.
Did you already personally travel in Europe before?
We=MUKASHIBANASHI: It is our first time!

Gashi: The people, the architecture, the way the city is organized, all of these are really really pretty! (laughs)

Saki: There are pretty girls everywhere! (laughs)
This morning, you performed on Tsubamé stage, how did it go?
Gashi: At first, we were a little nervous because it was our first time, but after all, it went like in Japan, people were singing with us! Codes were respected, and it was perfect! Too perfect to not be scary! (laughs)
You didn't thought about getting such a reaction?
Saki: Not at all! We didn't even know people knew us!
You also had a signing session today, did you talk a bit with your fans?
Saki: Yes, we did, a little.

CKJ: Did you learn French words ?

Saki: We studied some French before coming, so we exchanged a few words. For example, I introduced myself in French. But we also talked about other idols and anime loved by fans.
By coming here, can you say you made one of your dreams come true?
Saki: Yes, we are happy.

Gashi: Yes, it is a unique experience!
What would be the next step you wish to take in your career?
Saki: It is the first time we are performing here, but our goal is to introduce the Japansese culture and the idol culture to the world. We would like to go abroad to perform. But we would love to be able to have our own concert one day.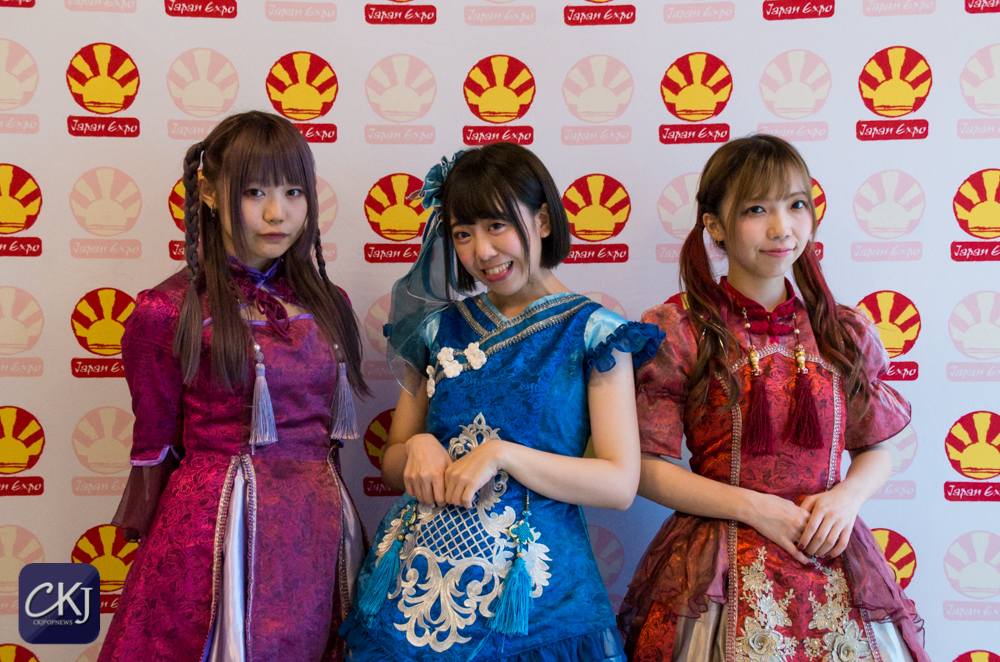 Do you have a last message for your French fans?
Saki: Sincerely, a thank you from the bottom of my heart! We are truly happy to see that people watched our review and our Twitter, we met a lot of people who like Japanese idol culture, so we would like to continue down that path.

We=MUKASHIBANASHI: Thank you a lot!
We would like to thank Japan Expo, the group's staff and WE=MUKASHIBANASHI for this pleasant interview.