At 25, Gaho is already an extraordinary artist. Halfway between several musical vocations, Gaho, with his attraction to music, proves that his genius has only just been exposed. With the release of his studio album Fireworks, Gaho, in all humility, intends to make sparks. An ode to youth and its complexity, its variety of feelings and passions, Fireworks has everything of an album to keep close to you, with which you have to meditate, an album to swallow and savor for all that it offers. : variety, sensitivity, virtuosity.
While he's already gaining some recognition for his Start Here OST, let's not let Gaho stop there, we have to showcase all the simplicity he offers. For the occasion, Gaho offers us an exhilarating interview, just like his music!
You can also find our French version on page 1 and our Korean version on page 3.
Hello Gaho, can you introduce yourself and tell us about your nickname?
Gaho : Hello, I am Gaho. 
I am a singer-songwriter who composes, writes lyrics and produces. I work with various genres like pop, R&B, rock to find my own expression of colors and singing style which I enjoy.
Actually there isn't one particular story on how the artist name 'Gaho' was made. I got that nickname when I was in school. During winter times, all the other students wore padded coats but I wore a leather jacket on top of my student uniform. Other students made jokes saying I was 'holding on to 가오 (Ga-Oh , pride)' . And as a student I often sang and danced at school festivals. During those times my fellow students would cheer me on with pickets and signs that said 'Gaho'.
Can you tell us more about your path as a musician and a singer so far?
Gaho : I tried various attempts while doing the music that I wanted to do. I am still challenging myself and I think by harmonizing various music styles I can find my own musical style. Since I spend most of my time working on music, sometimes it's difficult for me to come up with new concepts, but when I focus on the direction that I want to pursue, I think the album can have its own unique colors.
You are part of Planetarium Records and a lot of fans have met you during the concert in Paris with your crew. How do you feel about working as a soloist and being part of a crew? 
Gaho : It was a lot of fun to collaborate with my Planetarium Records family. We are all solo artists so I wondered how it would sound when we collaborate. Also, we started to work on music at a similar time so it had a very friendly and comradaring atmosphere. Now I am focusing more on my own music and if I have a chance, I'd like to visit France and meet the fans as a solo artist. 
Your voice is really something unique, and we have discovered you through ballads ("Stay Here"), OSTs, pop rock ("Ride" and "Start") and groovy music for example ("Pink Walk"). Which style do you think fits you the most/you're the most at ease with, considering that your voice is really special? 
Gaho : When I think about it, like 'Ride' and 'Start Over' are energetic pop-rock songs which seems suitable to me. I feel like my vocal methods are also more aligned with that genre. I think it's also because I like strong music. However, I am trying to adapt to ballads and groovy music in a Gaho way. 
About this music diversity, you are truly exploring various genres. How do you deal with the composition process and the aesthetic concepts? 
Gaho : I tend to have lots of music work, so I tend to blindly write a bunch of songs. And when those songs are collected, I try to think how I can classify them. I tried to take on different attempts and trials for genres and instrument arrangements and I think sometimes I put in some special elements. When I work on music, I don't try to limit myself to concepts and work on it freely. 
Which genre/concept do you want to try next time?
Gaho : I'd like to do jazz. I'd like to do a genre that fuses jazz with something else. Not now, but when I am older and when I and the listeners have more of a serious tone – that's when I'd like to try it. 
The OST "Start" was your most successful song. Could you tell us more about how you reacted to the song becoming such a success? Were you surprised? Happy? Maybe anxious?
Gaho : At first, I didn't even know it was that successful. I found out when my friend called me to tell me that my song is in the musical chart. Now looking back at it, it's funny but I actually asked my company people if someone was mass purchasing the song. I said if someone is mass purchasing that I should explain that haha. Of course, they said that this wasn't the case so I realized this is because many people actually really listened to this song a lot. When I got the song demo, I really wanted to do it. So I was grateful and happy that the TV show did well and many people loved the song.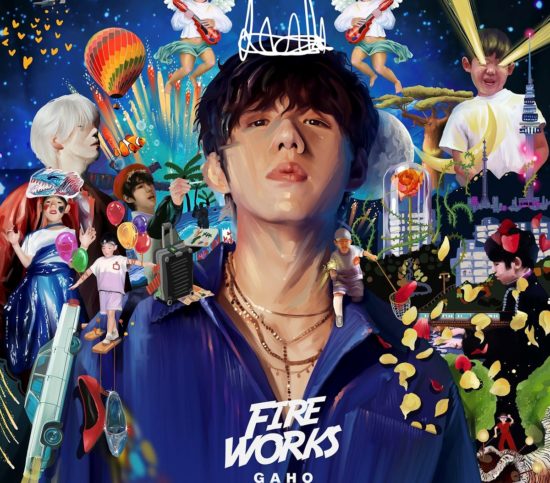 You are now releasing a new album. Could you please tell us more about this album? 
Gaho : I am 25 and I thought 'Fireworks' is a word that can represent the 20s. Fireworks go up high into the sky and for a brief fleeting moment burst glamorously. I also thought your 20s is a moment in life when you are shining the brightest. I thought I am also in such a time where I am in the chapter where I am going up into the sky. As it's an official album there are 12 songs and they all have different genres of music. 
Each song of the album is the representation of a feeling, how did you succeed in writing about all those feelings you may have experienced in your life? 
Gaho : The title song 'Right Now', like the other songs in the album, contains my thoughts and emotions. I wanted to express the different emotions (hope, love, friendship, passion, regret, emptiness) felt by the youth. 
Can you please tell us more about the process of writing this album? Did you take care of all the songs? Did you work with your labelmates and producers?
Gaho : I collected the songs I wrote and decided accordingly after. After that we all had a meeting and worked on some basics and my colleagues helped the build-up. During this time, we all divided our work and worked on the music. 
Which song on this album suits you the most at the current time?
Gaho :  It would be 'High' It's the last song on the album. I was thinking that If I had a second identity, then I think this dreamy and chaotic identity could be fitting, as I wrote the song. So this song has a special different feeling compared to other songs.  
Do you remember your concert in Paris? How was it? 
Gaho : When I entered the Paris airport, people were waiting and gave us gifts – I remember that quite clearly. I was so grateful that they somehow found out about our arrival flight times, waited at the airport and even prepared gifts. I also remember the fans enjoying themselves at the concert and even running into some fans when we went to eat! Due to the tour schedule, I couldn't do tourist activities in Paris so if I can go abroad I'd love to go to Paris and have a concert and also hang around there. 
Considering the success you now have, which is increasing more and more, how do you feel about going back on stage? Especially overseas? 
Gaho : I have been going on stage more and more but I've been doing online shows without the fans physically present, so I'd like to have offline concerts soon. Online shows don't quite have the same feeling as offline shows and I can feel the energy in the offline shows more. After COVID, I plan to do world tours. I hope you guys can wait for them so we can meet soon. 
Can you tell us more about your hobbies, things you do to relax when you feel too much pressure?
Gaho : I don't really have a hobby and often work on songs. So, because of that, I tend to often think about what themes and topics to choose for my music. And often, I tend to get inspiration from listening to my friends and people around me about their everyday life stories. 
So I don't really have hobbies or get stressed as much, but if I had to pick a hobby it would be the two: being on my smartphone before sleeping and talking walks outside.
To end this interview, do you have a last word for the European fans?
Gaho : Hello, I am Gaho. I am so grateful and it's such a big energy boost that fans in Europe are listening to my music and sending me love. Although we can't meet now because of COVID, I hope things will get better soon so I can perform my music to you guys in person. I hope you can continue giving me love and support. Thank you! 
We would like to deeply thanks Gaho, his label and Global PR & Marketing by MJ Tonz for allowing us to have this interview.