L'interview est disponible en français en première page !
You do not know Tokyo-Rickshaw yet? We can assure you that you missed something! So what is it?
In Japan, and more precisely in Tokyo, there is a neighborhood called Asakusa. This area is known for being very touristy. This is where you can meet tour guides who will take tourists from all over the world on a rickshaw! A way of locomotion unusual but very nice to discover the history of Japan told by young Japanese people passionate about the culture of their country.
A group of guides decided a few years ago to make themselves known on a larger scale in order to promote Japanese traditions. They use music to reach more people, showing good singing skills but also a lot of energy on stage with cool choreographies accompanied by many impressive acrobatics. Our curiosity was piqued by Tokyo-Rickshaw, which came this year for the second time at Japan Expo.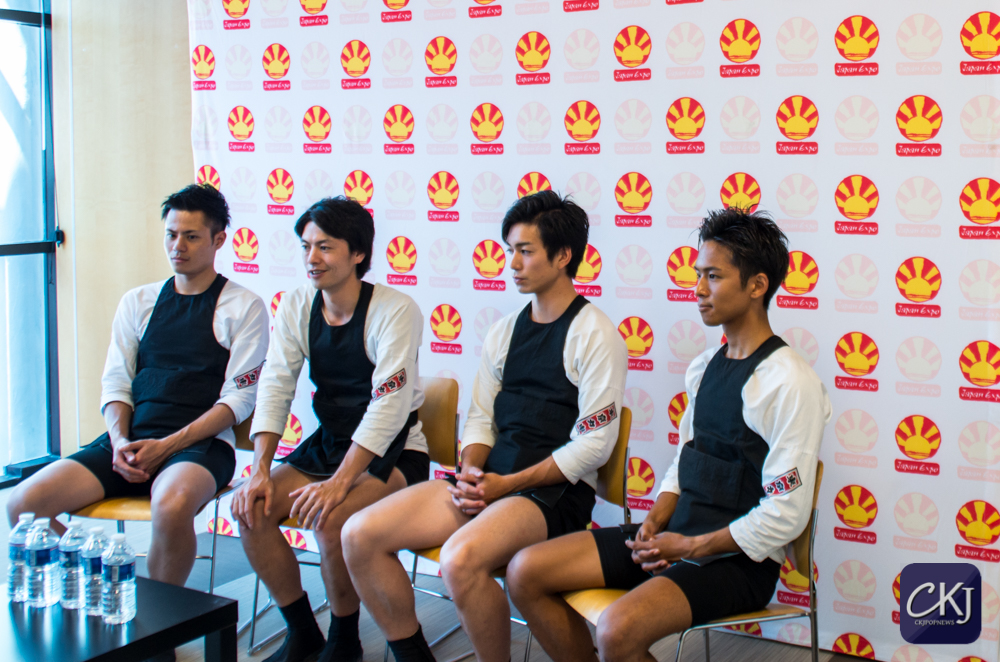 Could you present yourselves?
Tai Yuichi: Hi, my name is Tai Yuichi, and my nickname is Tai-Chan. I come from a different background, before I worked in the organization of wedding ceremonies. I love traveling and I have been to many places all over the world. In Japan, there is the city named Asakusa which is very touristy. I wanted to show Japan to the world that is the reason why I decided to join the band.
Takuya Ishibashi: My name is Takuya Ishibashi. I am the leader of the band and I joined Tokyo-Rickshaw last year in March being selected during the auditions. This is the 2nd year that I come to Japan Expo. I work in Asakusa which is a city very frequented by foreigners. I am proud to be able to come back here this year. Nice to meet you.
Watanabe Zeo: I am Watanabe Zeo. As our leader, this is the 2nd year that I come to Japan Expo. I have been a member of the band since April 2017. As it is the 2nd year, I try to show you that our work has progressed.
Kazunari Shiragami: Hi, I am Kazunari Shiragami but everyone calls me Kazu. I arrived recently in the group. I passed the entrance examination to join the group because I really like this means of locomotion, the Jidekisha, and I have always admired it a lot. This is how I decided to try the entrance examination. I have seen, since I am working in Asakusa, that many foreigners are interested in the rickshaw and I love this particular exchange we have with tourists. Coming here to Japan Expo is a chance for us to show people good things about Japan and I wanted to take this opportunity.
This is your second consecutive year at Japan Expo. What did you like last year that made you want to come back?
Takuya Hishigashi: I only have good memories. In fact it was the first time we did our show on such a big stage. We only set up our group project last year. Of course Tokyo-Rickshaw already existed before, but there was no band like now. It was a real challenge for us. Especially since the first stage was impressive. At that moment, we discovered the reaction of the French audience and we can say that it is a very warm public. It was a very good discovery. Normally our job is to give pleasure to others but this time we also got a lot of fun so the audience was welcoming. That's what made us want to come back.
In these two years of Japan Expo, did you feel the public interest?
Takuya Ishibashi: Of course! We know that it pleases to French people, we can see it in their attitude. Compared to our experience in general and our experience here we know that people who ride in the rickshaw really appreciate it.
Are French people good candidates to ride in a rickshaw?
Takuya Ishibashi: They are! If they hesitate we encourage them to do it and in the end, they are not disappointed because they tell us downhill that it was very interesting. We do everything to have this reaction. We are sure that people are happy to have done it.
You went into music to introduce Japanese traditional rickshaw. How did you get this idea?
Takuya Ishibashi: In 2020, there will be the Tokyo Olympics. We expect to welcome a lot of tourists and foreigners to Japan. Moreover, Asakusa is a very tourist and traditional city and we belong to that. If we join the entertainment today, it will speak to even more people and we will reach more people. That's how the path to this idea was made.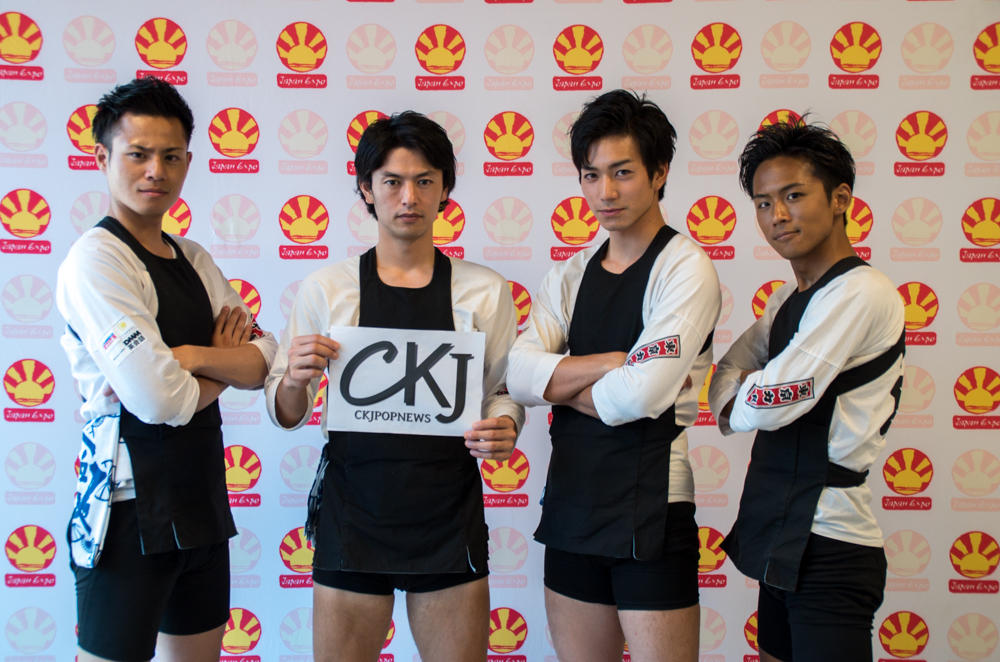 What does this Japanese rickshaw tradition mean to you and what would you like to convey through it?
Takuya Ishibashi: Once again, Asakusa is a very tourist town. Our role, through the rickshaw, is to be tour guides for people who go up. But at the same time the rickshaw is very related to the history of Japan. Before there were not as much tourists as today. The rickshaw helps to better understand this history. It is very important to transmit it. So there are two charms: the tourist side, and the deeper side related to the history.
Tai Yuichi: For me, it's a bridge role. On one hand, we are tourists guides and on the other hand we are one important direct contact tourists have with Japanese people. It allows us to create an exchange and to help people to know Japan more deeply. In these exchanges, tourists sometimes give us the desire to leave, to travel. The rickshaw allows a very important contact. It is great that tourists can enjoy it especially because they do not usually have much time and have already paid a lot to travel to Japan. They listen to the information we give them with great attention.
Do you have a last message for your French fans who came to see you at Japan Expo?
Takuya Ishibashi: We have waited a lot for this moment. It was really a pleasure to be able to come back this year. I think people have to enjoy our presence this year to get into the rickshaw and have fun together. If you come to Japan, we encourage you to go to visit Asakusa and see us again.
Thank you very much!
 Thanks to Japan Expo for offering us this very interesting interview, and to Tokyo-Rickshaw whose passion for their country makes you really want to travel