Cette interview est disponible en français en première page !
=LOVE, pronounced Equal LOVE, is a young 12-member Japanese band that debuted just a year ago. Otani Emiri, Oba Hana, Otoshima Risa, Saito Kiara, Sasaki Maika, Satake Nonno, Takamatsu Hitomi, Takiwaki Shoko, Noguchi Iori, Morohashi Sana, Yamamoto Anna and Saito Nagisai are of course idols, but also voice actresses. They were selected by Rino SASHIHARA, a member of the famous group HKT48, who had the idea to create a group composed of ideal idols who could wear and embody specific values "to be loved by fans and to love their work". She then chose to co-produce this band with the collaboration of the Yoyogi Animation Academy, the most famous animation school in Japan.
The girls performed for the first time as a group in August 2017 at the TOKYO IDOL FESTIVAL 2017 competition after joining the label SACRA MUSIC. Following this competition, the idols were able to release their first eponymous single in September, which immediately received a great response from the public. Their second single came out during the Christmas holidays and is called "Bokura no Seifuku Christmas". Their third single was released very recently, in May 16, 2018 and is called "Teokure caution". The girls have announced just a few days ago the release date of their next single: it will be available on the 10th of October 2018 although we will have to wait for more information.
In addition to their music activities, =LOVE members also try to break into another area: dubbing. They first came on stage as voice actresses for the musical "Kemono Friends" earlier this year.
This year, the members of =LOVE tried to conquer the world and especially the European market by showing what they are capable of at Japan Expo. We tried to find out more about them by asking them a few questions during the festival!

Hi, at first could you present yourselves?
Oba Hana: Hi, I'm Oba Hana!
Morohashi Sana: My name is Morohashi Sana.
Noguchi Iori: I am Noguchi Iori.
Takiwaki Shoko: I'm Takiwaki Shoko
Otoshima Risa: I'm Otoshima Risa.
Satake Nonno: My name is Satake Nonno.
Otani Emiri: I'm Otani Emiri!
Saito Nagisa: I'm Saito Nagisa.
Yamamoto Anna: My name Yamamoto Anna.
Takamatsu Hitomi: I am Takamatsu Hitomi.
Sasaki Maika: I'm Sasaki Maika!
Sato Kyara: I'm Sato Kyara. 
Why did you want to become idols?
Otani Emiri: One day I watched an anime and that's when I wanted to become an idol. This anime dealt with a regular girl who wanted to become an idol. I've watched this anime when I was attending primary school, and that's what made me want to become an idol myself. 
How did the auditions take place? What experience did you gain from it?
Morohashi Sana: During the second step of the audition, I took a look around me to see the other candidates who were about to audition too, and I saw that they were giving everything, so I began to doubt myself a little bit. I didn't know if I was really part of this idols and actors world. After that, I told myself that I couldn't be included in this category, and then I talked about it with my family. They told me that it was a once-in-a-lifetime opportunity, and that I wouldn't have any more chances like this one. So, I decided to go on, and I ended up winning the audition!
Your band is partly produced by Rino SASHIHARA, member of HKT48. What did she bring to you and your career so far?
Oba Hana: Rino Sashihara taught me things about being on stage, like talking to the audience and to host between songs. She also taught me to not let silences between two songs.
Yamamoto Anna: When we bow to thank the audience at the end of a performance, we have to line up perfectly, and that's what I've been taught by Rino Sashihara.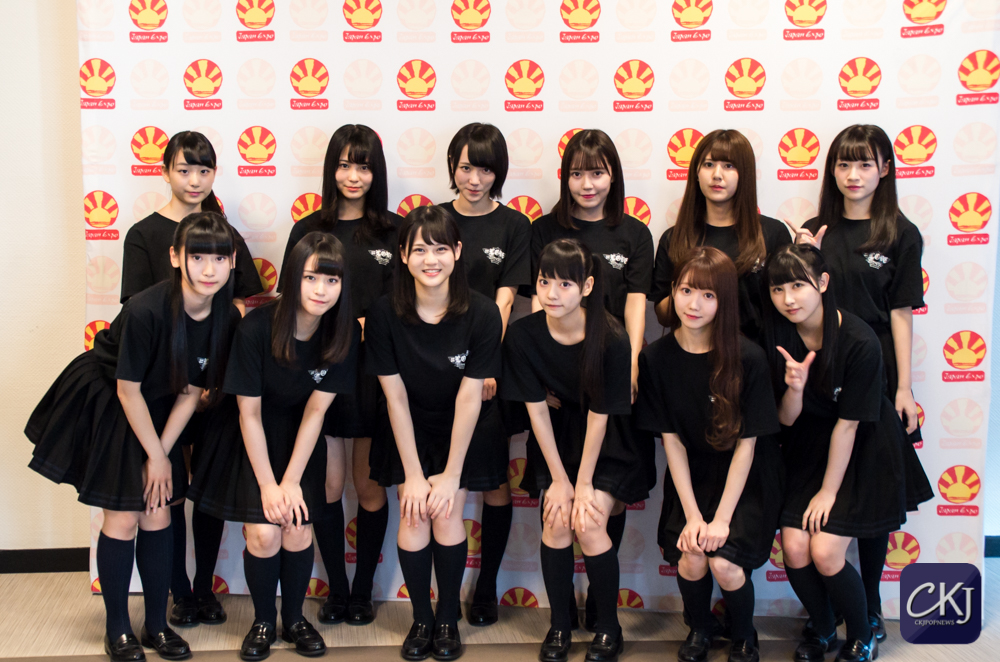 A few days ago, you announced the release of your 4th single, which is scheduled for October. Can you tell us more about this next single?
Saito Nagisa: Actually, we haven't heard this single yet, but we're all really excited to hear what it will be!
You want to be a perfect idol group. In your opinion, what could make a perfect idol group?
Otani Emiri: For me, being a perfect idol in =LOVE is loving our fans. But it's also our fans loving us, and us loving ourselves as idols. 
You're also voice actresses. What do you like in this activity?
Sasaki Maika: I really like us being voice actresses. At first, it was quite hard for us and we were struggling a little bit, but step by step our flaws and strengths were revealed. Lately, I realized that I love dubbing. 
And finally, have a you got a message for your French fans?
Takamatsu Hitomi: It's the first time that we come to France for the event Japan Expo, and it's the first time that we perform on such a huge stage. We want to have an impact on Japan Expo! 
We want to thank again Japan Expo for the organisation, 
and also =LOVE for their charming smiles during the interview!