Article en français en première page
As we promised you, here is our article about another band we met at Japan Expo 18th edition last summer! If you read our other articles and pictures about the first days of the festival (Thursday & Friday), you already saw them… Learn more about the girls of suga/es thanks to the press interview, during which the members talked about themselves and their carrier for more than half an hour.
Check it out:
First of all, thanks for this interview! French audience doesn't know you yet, could you begin this interview by presenting yourselves?
Mayo: My name is Mayo. I'm the bassist and I'm also in charge of the stage outfits.
Chihiro: I'm Chihiro, I play drums. I'm also the leader of the band.
Noah: My name is Noah and I'm the singer.
Nami: I'm Nami and I'm the guitarist.
You began your carriers as models for magazines, why did you decide to begin creating music?
Chihiro: At the beginning, two of us were already playing music, but our bands disbanded, and as all of us loved music, we decided to found this band.
Could you explain the meaning of your band name "suga/es"?
Chihiro: As we told you, we were models before and people see us as cute girls, but each of us has an unique personality. That's why we don't really have this 'sugary' side [editor's note: "suga/es" is pronounced "sugarless" in English]. Actually, we're not sweet and that's why we chose this name.
Who are the artists who inspire you?
Mayo: I'd say RADWIMPS.
Chihiro: The first time I ever loved music from a band, it was when I listened to Scandal, and recently I started to listen to UVERworld.
Noah: I'd rather listen to songs from my dad's generation. (laughs)
Nami: My mom listens to a lot of Japanese bands, so since I'm little I listen to these bands too. Recently, I started to listen to The Oral Ciragettes.
Are you still models aside suga/es, or do you want to focus on music from now on? 
Mayo: Two of us are still students, so Chihiro and I we still do modelling.
Could each of you tell us how long have you been playing your instruments and how long have you been doing music?
Mayo: It's been two years and a half since I started playing bass. But, as a suga/es member, it's been only a year that I'm playing music.
Chihiro: I started doing music early! When I was three years old, I played piano, in middle school I was in a group like a fanfare where I played drums, and from this moment I started playing drums. In high school I also had my own band, so suga/es is my third band.
Noah: I started when I was 10 years old and I played music for 5 years. I also had my own band then, who is now disbanded, so suga/es is my second band.
Nami: Like Mayo, it's been two years and a half for me. But from the moment we founded suga/es, I started playing really seriously.
You became popular really fast and you quickly performed in front of thousands of people, did you think you'd go this far this fast when you started your music carrier?
Mayo: No, we didn't see that coming! The only fact that we're performing on stages where a lot of other famous musicians are performing themselves, it's like a dream come true.
You mainly do rock'n roll, would you like to add other styles to your music one day?
Chihiro: For the moment, we really want to stick to rock'n roll, we can't imagine anything else!
What is your best memory in suga/es?
Noah: As we're a young band, we go one stage about once a month, which is not a lot. Every one of our concerts is really intense, each experience is a step forward for us.
Six months after the creation of your band, you had the opportunity to perform on the famous festival organised by the band Silent Siren, how did you feel about it?
Mayo: For us, it was like a dream! Silent Siren are like role models for us and we learned a lot thanks to them. As they can be seen as examples, they have a lot of experience and we had the opportunity to see how they handle all this experience during a show.
What did you think of your first concert at Japan Expo and of your French fans?
Nami: Actually, we were really stressed because it was our first show outside of Japan. So performing in front of many people, we didn't know how we could be accepted. In the end, the audience was really warm so we were really happy.
So it was your first concert in a foreign country, did you change something on stage?
Noah: We almost did the same thing we usually do in Japan, but the biggest difference is the audience. As we didn't play for Japanese people, we couldn't talk as much as in Japan, so we stayed focused on our music.
For you, what was the biggest difference between the French audience and the Japanese audience?
Nami: The biggest difference is that in Japan people take a little time to feel the ambiance, but here people do it fast! They start screaming and we don't have to do anything to make them, we think it's amazing!
Do you have a message for people who discovered you in Japan Expo? 
Chihiro: During our signing session, I was really startled to see that a lot of French fans, who didn't speak Japanese, came to see us anyway and talked to us in Japanese, so we could have conversations with them. We were really amazed, it's incredible!
On the festival, you will perform on stage along with Kamitsuki. Did you know this band before, and would you like to meet other Japanese artists who are here on the festival?
Nami: No, we didn't know them before, but we had to rehearse together, and we really enjoyed it!
Would you like someday to collaborate with a foreign artist? Do you have examples to give us?
Noah: Yeah, everyone! Even high school bands, or artists with a lot of different music styles! (laughs)
So, as former models, how do you feel about coming here in Paris, fashion capital city? Do you prefer French fashion or Japanese fashion?
Mayo: Before, I attended a fashion school. And after finishing this school, I was still interested in fashion, as for example Paris and French fashion. I've always liked it a lot! Paris itself is also a really beautiful city, so it's like a dream for me to be here. But you know, Japanese fashion is also really unique, and generally Japanese culture is unique too. So I think that both French and Japanese fashion are really important.
Did you already have the opportunity to take a walk in Paris, and what did you see? What kind of food did you taste?
Mayo: We didn't have the time yet, but we'll go visit Paris tomorrow. But we'd love to taste macarons! (laughs)
It's Noah's birthday tomorrow, how do you feel about celebrating your birthday here in France?
Noah: Of course, I'm really happy! It's our first time in France, and also outside of Japan, so celebrating my birthday here in France with suga/es and being able to stand on stage, it's really great! I also really enjoy eating bread, so it's perfect for me to celebrate here! (laughs)
As we talk about it, what are your impressions about France compared to the image you  had before coming here?
Chihiro: We really saw France as a country with beautiful landscapes, and a really great fashion. We also thought that France was a country really opened to Japanese culture.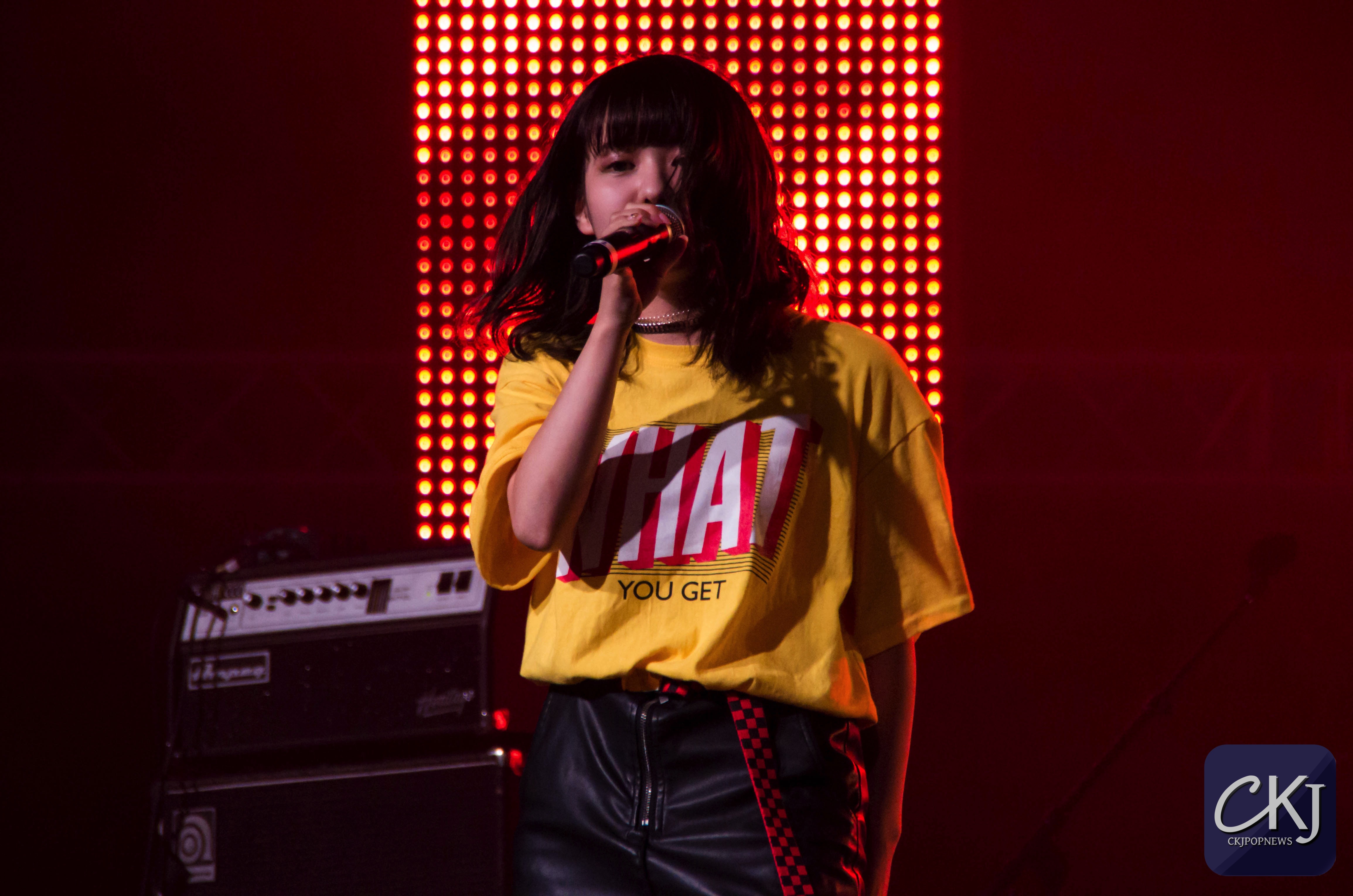 You're here for Japan Exo, a festival about Japanese culture (manga, video games, animes…), do each of you like something in particular among Japanese culture?
Mayo: I was really excited because I really like video games, particularly from Nintendo. So I really like Zelda, Fire Emblem, Tokyo Ghoul etc.
Chihiro: These days I don't really have time to watch animes, but when I was little I loved watching Cardraptor Sakura.
Noah: I love Super Mario Bros!
Nami: I personally watch Tokyo Ghoul!
Now that you discovered France, in which other foreign country would you like to go to perform?
Mayo: Honestly, we'e always wanted to go to Hawaii! (laughs) But we were really amazed by the way people greeted us here, so I really want to visit a lot of other foreign countries now!
For your first big concert, you played on the famous stage of Zepp DiverCity at Odaiba (Tokyo), which is really something special, which next venue would you like to perform in? As Nippon Budokan, Tokyo Dome…
Mayo: We'd really like to play in Nippon Budokan!
Noah: Sure, because as artists, this stage is a really important step.
After Japan Expo, what is your next objective?
Noah: In October, we start our first one-man live tour.
Do you already have planned projects for the rest of the year?
Noah: We're going to start with our one-man-live tour in October, so until October we really want to rehearse as much as possible, and maybe we'll release a new song.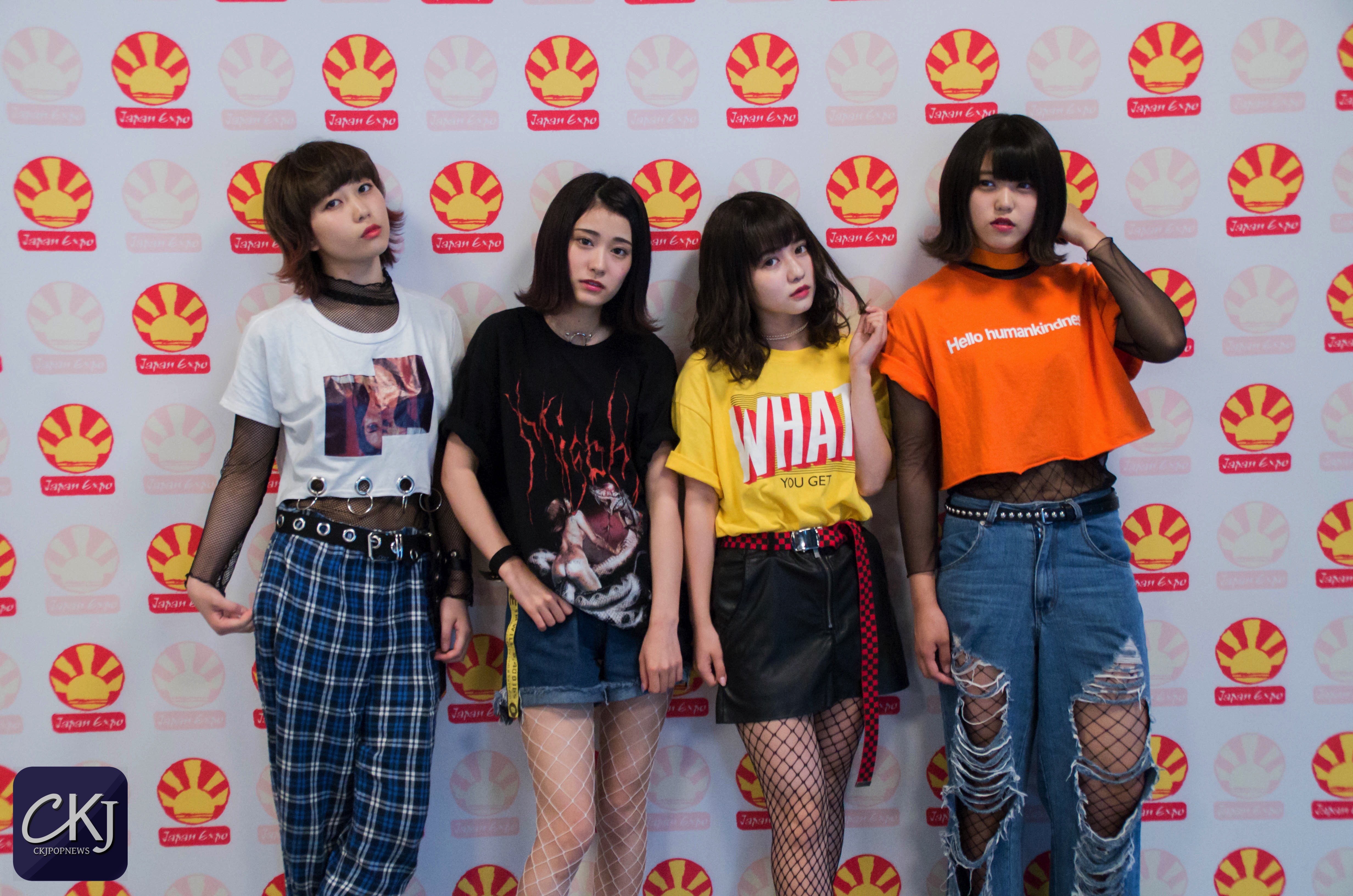 Aside music, animes, mangas and video games, do you have any hobbies?
Mayo: I really like fashion, as I prepare outfit for the members, I also like animes, mangas and listen to music! I also know how to whistle [high notes] ! (laughs)
Chihiro: These days, I like to take pictures, so I really like to do social networking. I also enjoy cooking, I even made bentos [editor's note: little lunch boxes] for the members yesterday. Otherwise, I take care of my members' hairstyles, I really like the freedom we have to handle everything ourselves.
Noah: I personaly really like visiting aquariums, I even go alone because I love it. Otherwise, I talk a lot! (laughs)
Nami: I really like to go to cafés, I can even visit two or three different cafés a day. I'd like to do this in Paris too, so if I have time tomorrow, I'll go to cafés! Aside cafés, I really like music, so I often go to concerts, even to see little bands.
Have you got a last message for your fans to end this interview?
Noah: We're really happy to be at Japan Expo and in France, thank you a lot, we are suga/es !
suga/es: Bye bye ! Merci ! [editor's note: in French]
Thanks to Japan Expo's staff for this interview,
and to suga/es and their team for taking time
to answer our questions during this interview!