At Japan Expo 2019, we had many interesting meetings. Among these encounters, there was a band of Japanese metal, IRON ATTACK!, and it is not the least! Made up of five members describing themselves like otaku, their fate crossed to no longer separate despite the very different personal projects they have in parallel.
The band was formed in 2013 around the leader IRON-CHINO who already came to France a few years ago with his former band LIGHTNING. They all come from different horizons that they have been able to use for the benefit of this band over the years to define their own style and their own musical universe. The popularity of some in their personal activities has also allowed them to climb in popularity quite quickly and to do many tours.
Their arrival in France is experienced as a new step in their career, allowing them to reach a new audience, fan of Japanese animation and therefore already very receptive to the music they offer. We let you discover a little more below with the questions we were able to ask them!
Hello! Can you start by introducing yourself?
IRON ATTACK!: Hello!
Ryu: Hi, I'm Ryu. I'm the second guitarist of the band.
IRON-CHINO: I'm IRON-CHINO, the leader and the main guitarist.
YAMA-B: I'm the male singer, YAMA-B.
Minus-iyon: I'm the female singer, my name is Minus-iyon.
Mikawa: I'm Mikawa, the drummer.
Could you explain the meaning of your band's name?
IRON-CHINO: The first part stands for my name, "IRON", and the second part brings out the strength, the energy, "the attack". This name gives a feeling of strength as if we are fighting with an iron bar. We can think it is painful, but this is the power we are bringing out and we want to show with this name.
Some of you work on various projects, with other bands. Could you tell us more about it?
Ryu: I'm playing in another band, but the music is different from what we produce as IRON ATTACK!. There is much more "scream" with my other band.
YAMA-B: I'm also part of another band; I'm the singer and the main guitarist there. We are about to release a new album so please support us! I'm receiving the support of many people because I'm famous through numerous projects in Japan. But I have to say that I'm having the most fun with IRON ATTACK!
Minus-iyon: I write songs for other people and I'm really into drawing.
Mikawa: I don't really compose songs, but I do participate in recording sessions. I tend to sometimes be a session drummer for other bands.
How would you describe the music universe of IRON ATTACK!?
IRON-CHINO: It is actually a clever combination of the very famous melodic metal singer YAMA-B, the root of our band, and the idol of the 80s Minus-iyon.
IRON-CHINO, you were the only member at the beginning of the band, why?
IRON-CHINO: Actually, I started with Minus-iyon; I was writing songs while she was singing. We went on our long journey together, and as we met people, people were added to the group and the band was created this way.
How were the other members chosen?
YAMA-B: Fate! (laughs)
IRON-CHINO: I approve! Going into further details, I noticed our guitarist on Youtube and after reaching out to him, we quickly started working together. YAMA-B was quite well-known in Japan at that time, I didn't dare contacting him. One day, I mustered the courage to invite him to join the band and he accepted. Our drummer was cast through auditions: there were only two of them in the running but Mikawa beat the second candidate with his drumsticks to take his seat!
IRON-CHINO, you were also a member of LIGHTNING with whom you performed in Japan Expo in 2011. What remains from this experience?
IRON-CHINO: I must be honest with you, I don't have many memories of that moment. However, in 2011, it was my first time travelling abroad. It was a turning point in my life because I started numerous projects overseas and today, I'm only staying in Japan half of the year. At that time, only X Japan were performing abroad, it was not easily done. During each interview we had at that time, everyone asked "what do you think of X Japan?" (laughs). It was quite funny.
How does your involvement with other project/band add value to IRON ATTAKC!?
Ryu: I write a lot of video game music and it has greatly influenced the band in my opinion.
YAMA-B: I sing the lyrics written by IRON-CHINO and, at the end of the day, I don't feel like I'm being forced to sing things I don't want to, it suits my expectations and what I want to do, so I'm happy about that.
IRON-CHINO: Minus-iyon brings a feminine touch to the band but also her little particularities, because there are not a lot of women in metal. Mikawa is very much influenced by progressive metal, he has great suggestions and initiatives in terms of speed and technic.
You have matching universe. Do you feel this blend on stage?
IRON-CHINO: Yes! When we are on stage we feel like one!
CKJ: We can all feel that!
IRON-CHINO: Thank you!
Speaking about feminine touch, Minus-iyon, how do you feel about being in a band with mostly men?
Minus-iyon: They don't think of me as the "little girl" they have to take care of. I am more likely to, in priority, take care of everyone else and be the big sister in the band.
Could you explain more precisely to us what is the concept "Doujin"? Why are you describe as "doujin"?
IRON-CHINO: It's simply music written by otaku for otaku. In Japan, we have a convention, same as Japan Expo, called Comiket but it's three times this convention and twice a year. I used to go all the time, that's why we also belong in this universe.
YAMA-B: We all are otaku! (laugh)
IRON-CHINO: On the other hand, we produce, write, and distribute our own music. That's the "doujin" concept. "Doujin" means "same person", because it's the same person doing everything.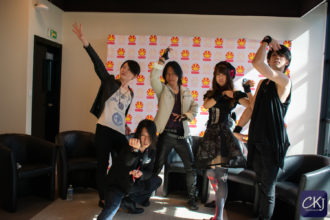 How important is the popular culture (anime, manga, etc.) in your own personal life?
IRON-CHINO: We are very much influenced by anime music and superhero's stories we often find in this universe. It influences our own music. I think this is something the whole band can agree on.
Then, is there an anime for which you would like to compose a song one day?
IRON-CHINO: Goldorak!
YAMA-B: All of them!
Mikawa: Cardcaptor Sakura, for me.
Ryu: Gundam
In your writing process, who is in charge of what?
IRON-CHINO: I am in charge of 80% of the work and Minus-iyon the remaining 20%. But, even if I compose, she has the final word! She even succeeded to make me cry trying to have her way. And when I'm sad, I drink wine.
How do you manage the band's activities and you personal ones?
Ryu: I write really different music on the side, so it's easy for me to make the difference between each activities and to always have fun.
YAMA-B: I am really successful at managing both activities. Because, even if the melodic base is quite the same, what I do in my other band is different. There are for example, a lot of American influences, I can even sometimes write lyrics in English. It allows me to keep the balance between both activities.
Mikawa: I am highly influenced by progressive metal and instrumentals. It allows me to see different things, to do different things and to have diversified activities
Do you have any last word for the fans?
IRON-CHINO: We talked about it earlier, I came already with LIGHTING a few years back. The fact that I'm back today, I want to take stock, and show where I am today and how I got here. We have to admit that if we are able to be here today, it's thanks to X Japan who paved the way, and I want to thank them. After 8 years, I feel like I'm home, and I can say "I'm home". We are able to meet again with people from 8 years ago, and we are really grateful to be able to say, "it's been a while". It's a great feeling.
Ryu: It's my second time in France, but the first time I'm able to perform on stage. I'm really happy to have met the French public. My personal music is on Spotify, please come listen to me on there.
IRON-CHINO: Thank you to all of those who supported us and saw us grow all this time. Now I'm giving you a date in Lyon, November 30th!
YAMA-B: Thank you for coming to see us on stage, it was my first time in France, and I'm happy. I'm not on Spotify, but I will do that when I'm back home.
Minus-iyon: I'm going to put a lot of efforts to do many things so I can come back to France soon. Thank you everyone for your cheers!
Mikawa: I'm very happy to have been able to produce at the Japan Expo. Thank you for your warm welcome each time.
IRON ATTACK!: Thank you!
Many thanks to IRON ATTACK!'s members for this very interesting exchange and the time granted during this interview. Thanks also to Japan Expo for organizing this wonderful meeting.