L'interview est disponible en français sur la première page !
Last january, 30th, the real japanese hip-hop team has decided to achieve an ambitious and surprising project, by gathering two japanese artists from the hip-hop scene (Tigarah and ISH-ONE) with a DJ named Sonikem, who finds his inspiration within the japanese underground field.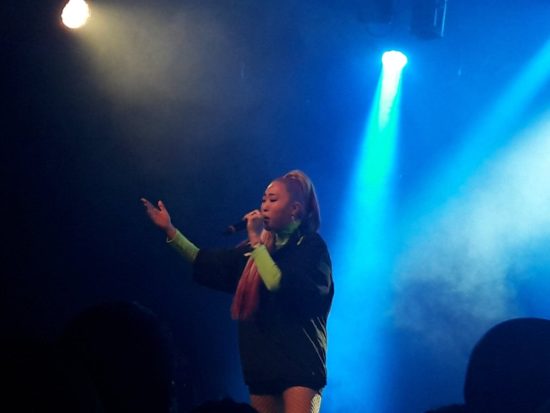 At La Place, on the Canopée de Châtelet in Paris, around one hundred people, from the japanese hiphop lovers to the passers-by looking for a new universe, have gathered to bounce on those rappers, and on the young Aran, a newbie, maybe one of the upcoming prodigy of the japanese hip-hop.
CKJ had the opportunity to meet ISH-ONE and Aran, who told us about their huge goals. Enjoy the interview !
Can you introduce yourself to our readers?
ISH-ONE : Hi, what's good CKJ ! I go by the name "ISH-ONE" I am a rapper, singer and producer. I represent Yingyang and TEAM2MVCH. 
Could you speak about the beginning of your musical career and your appeal for the underground hip-hop?
ISH-ONE : After I came back from New York to Tokyo, I started my label "YINGYANG PRODUCTION" in 2016. after I released my 1st album "ST-ILL" which its 1000 copies were sold out in a month so quickly. I felt I can make it with this music. Around the time people started to recognized me as a new ninja from new york in Japanese hiphop scene.
You have produced the majority of your singles. What are your inspirations for all of those songs?
ISH-ONE : Things happened in my life, my friend's life. It makes me rush for more creation. Living as a hiphop artist is not ordinary for normal Japanese people. So we live our life up and write about it. I guess that makes people interesting in subjects I sing about.
 What is the song which represents the best you own world?
ISH-ONE : It's  "NEW MONEY" I think. This song made me blew up in japan.
What was the opus which was the hardest to work on? Why ?
 ISH-ONE : I make song everyday like non stop. So the hardest thing is to keep my mind open and fresh, also keep my passion, focus and get it done. I need new experiences for every song I make because it feeds my hunger for making music.
Are there subjects you haven't talk about yet and you would like to try? Why those subjects?
ISH-ONE : Recently so many domestic violence happened in Japan. Parent kill their own children with brutal violence. Crazy shit. So I just wrote a song called "DIE 2 SOON" prod. by DELMONTE. It's a song about domestic violence and it's pretty deep.
Are there some artists you would like to collaborate with?
ISH-ONE : Anybody who got true passion and skills. I will.
Last year, you met Azuma Mazi and you had constituted the duo SIXSIXSIK. How did you two met? Why did you decide to do this peculiar formation and not only simple collaborations?
ISH-ONE : My bro -who is a rapper- RWEMY introduced me. He told me like "yo you gotta check this dude named Azuma. He raps and sings dope with his bilingual style."

At the time I was thinking about doing some for internationally so we met up at a studio chillin' and did freestyle. Then I hit off with him really quickly. Then ours style are similar : we both sing and rap. So we decided to make a group called "SIXSIXSIK" because we flow devilish.
Aran has performed on scene with you for his first time in France. Should we expect other collaborations with him? What were his impressions about this collaboration?
ISH-ONE : Of course! I produced his 2 EP's. After I've told him I got booked for a concert in France, he got his own ticket and said "Can I come with you?" so I said "yes!!" I like his passion for experiencing things. Aran is a dope rapper from Yokohama. I was happy to see that people actually loved it : our song and his performance.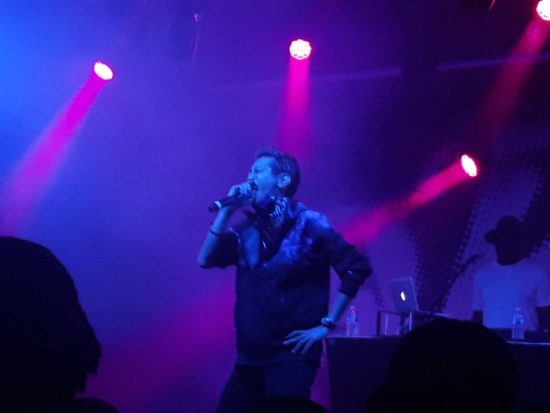 Not only the hiphop genre is rooted in Japan but also in a lot of countries. What is the strength of this musical field?
ISH-ONE : After the born of hiphop in the bronx in the late 70's, it became the youth voice around the world. It has the force to release your negativity and positivity. I think that the world needs it. And hiphop literally breaks the rules in music and now it became more business. I think it's good to make money but we can't forget to send  a message, culture , belief.
What is the strength of the Japanese hip-hop?
ISH-ONE : We have so many cultures mixed like States but in a different way. I think that this essence makes japan so unique and I want to export more of it through the world.
Who are the Japanese artists who could the best leave their marks on the hiphop scene?
ISH-ONE : There are many dope artists in japan so I suggest you to dig into it.
You have lived for a long period in the United-States, one of the rap's cradle. Have you been influenced by the "American style"?
ISH-ONE : I lived in NEW YORK for 9 years. Since I met hiphop those stories in rap music have sound like movies to me. And I really wanted to see and live that kind of  life. So I moved to NY when I was 18. I lived with projects in herlem and built my own studio into the room with my friend and started to making music. I learned a lot of things from the city so I can say NEW YORK made me.
It has been a long time since you have worked in the underground environment. How did you perceive its evolution, its international expansion?
ISH-ONE : It became more global. Because of internet, we can connect with people in the other side of the world. If your music is dope and if you are growing up with your fans through the world, there are so many possibilities. 
What do you know about the European/ French hip-hop scene?
ISH-ONE : I used to bump on "IAM" and "Solaar". They are dope. For new cats I would say "booba" and I wanna know more though. 
How do you feel about this partnership with Real Japanese Hip-Hop (RJHH)?
ISH-ONE : Real Japanese Hip-Hop (RJHH) is the site that knows everything about Japanese hiphop. So I was so happy that they brought me there and made the show happen in PARIS. Respect roger and emiko for all the stuff working at the site.
What do you plan to do for this year?
ISH-ONE : I will release my produce "TEAM2MVCH" album on june, SIXSIXIK EP in summer and 6th album for september. Many releases and tour ahead.
How was your concert in Paris?
ISH-ONE : It was beautiful. I was so happy that they actually danced and bounced to my songs. Thank you for everyone who came to the concert and show me some love at LAPLACE.
What do you think about your European fans?
ISH-ONE : I only know french fans for now but yeah I think they'd try to understand songs deeper. I think it is because they love arts more than any country in the world. Thank y'all!!
What do you expect from the international stage to grow your plans?
ISH-ONE : Definitely I will go out and do more shows in the world. Because now I know this is possible.
Can you share with us an anecdote from this experience in France?
ISH-ONE : We found vending machine for condoms in the subway. We have it in japan too but I've never seen one in the subway. I was convinced I was in The city of love Paris.
A last word for you French audience?
ISH-ONE : Thank y'all see y'all soon!! J'aime tout le monde! Reviens parce que je vais vivre !
It was your first time in France, how do you feel about that ? Can you speak a bit about yourself?
Aran : It was so exciting and got good response from french audience so I could perform with a lot of good energy. I'm a rapper from Yokohama in Japan. I sing about the "street".
When did you start to make music?
Aran : When I was seventeen, I started to grab mic and spit. then I went deeper with my passion for music and started to take it serious from 2017.
Why did you choose the hiphop environment and what inspires you?
Aran : I choose hiphop because it's the music I can put my life in to it and I can express myself with this. For my lyrics,  I came up with an idea all of the sudden. Especially when I wake up I can come up with hot flow and lyrics.
Do you plan to do other collaborations or other projects in the near future?
Aran : Me and ISH-ONE did a song and video together in PARIS and it'll come out soon. Also I'm planning to release my next EP on june. I got tons of songs and I'll be releasing more in the future but I wanna do more collabs with more dope artists around the world.
How was your first encounter with ISH-ONE?
Aran : My bro, a rapper from yokohama, "Leon Fanorakis" introduced him to me.
What do you want to say to your French audience?
Aran : It was so dope and so much fun out there. Definitely I wanna go back and live really soon so holla at me. Thank you. Merci beaucoup.
We would like to deeply thank the team of Real Japanese Hip-Hop for this opportunity and Xavier Norindr for inviting us.