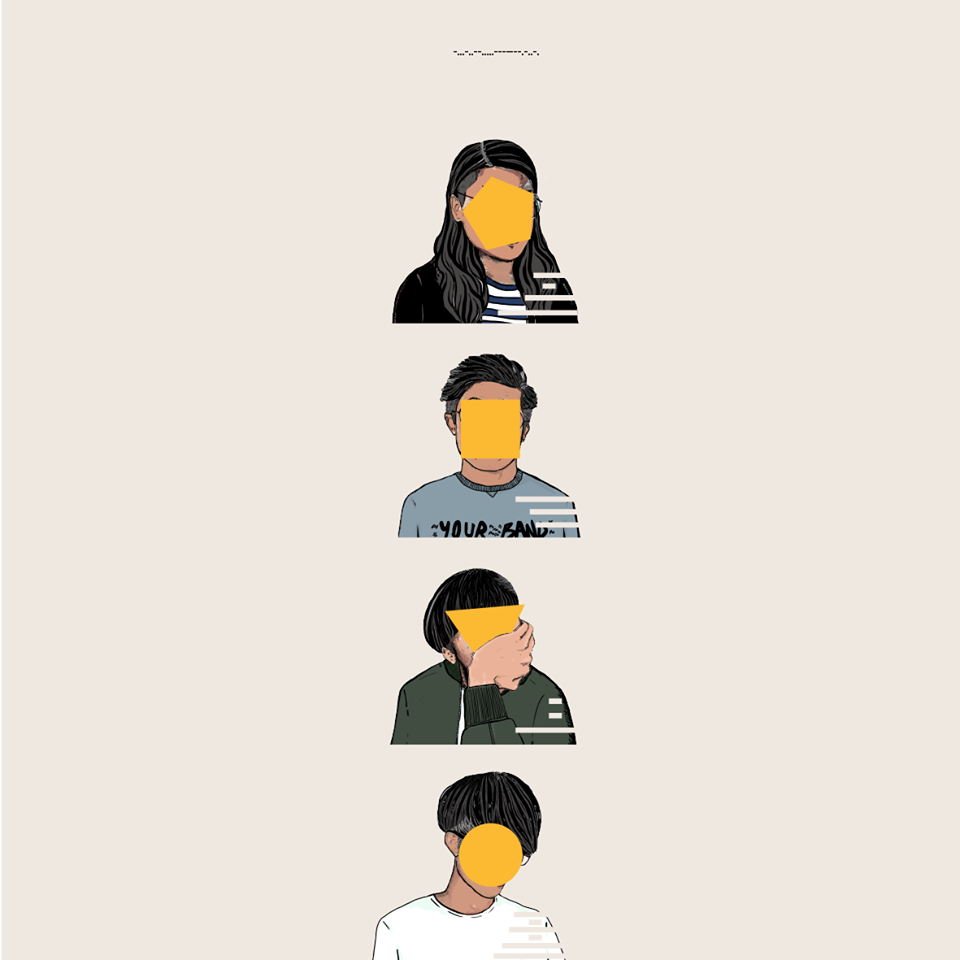 A few weeks ago, we talked about PHOON, an indie rock band based in Hong Kong. For the release of their debut single "YOU!", the band nicely accepted to answer our questions to let you know more about them ! Enjoy 😉
[Version française disponible à la page précédente !]
Here is the interview :
First of all, could you present the band and its members, to let our readers know a little more about you ?
"We are PHOON from Hong Kong ! Which is consist of Mukchi (Vocals/Guitar), Laurence (Keyboards), Sum (Drums) and Ting (Bass)."
What does the name 'Phoon' mean ? Does it represent something special for you ?
"PHOON means "Wind" in Cantonese, which is derived from the word "Typhoon". There was a typhoon the day we came up with the name, and we thought the nature of "Wind" suited our style of music, therefore, PHOON."
You released you debut single "YOU!" a few weeks ago, and a fan of you even did a cover of the song. Did you expect to draw this much the attention ?
"Honestly we dreamt of "YOU!" gaining popularity and really wanted it happen, that is why we spent so much time on the details of the song's mix and artwork, but we never thought that it would really gain so much attention and we are quite surprised and glad that we spent so much time on it. Thank you everyone for liking "YOU!"!"
Their debut single, "YOU!" :
Where did you get the inspiration to write and compose "YOU!" ?
"'YOU!' was a creation out of coincidence. It was in a jamming session when our keyboardist Laurence joined not long ago and Mukchi was testing out his guitar then the chords of "YOU!" was done, then within the day 80% of the song is done! The song is about people who fall in love with people and things over and over again."
By the way, "YOU!" is in English, why did you choose English over Chinese ? Can we expect Chinese songs in the future ?
"Because it is actually really difficult to write songs in Chinese even though it is our mother tongue, we find it natural to work in English. So I guess there won't be Chinese songs in the foreseeable future!"
Have you planned to release the music video of you debut single ? Or maybe a music video of another one of your future songs ?
"We have discussed about a new single and MV in the future! Let's hope that it comes out within 2016!"
An official remix of "YOU!" by Walter Wong was also released. Did you choose him to work on your music or did he decide alone to do this ?
"Walter is a good friend of ours, we did not know that he was working on the remix beforehand! We are pretty flattered to see people covering and remixing our song!"
Remix of "YOU!" by Walter Wong :
https://soundcloud.com/wong-walter/phoon-you-walter-wong-remix
On your social networks, we can see a special visual concept, which defines your band. Why did you decide to make characters of you ?
"Our vocalist Mukchi studied arts in university for a while and thought that we could combine both music and visuals into our package, and that it would be more identifiable to our audiences yet retain a certain mysterious vibe. We hope that there will be live visuals too in the coming future!"
What's the next step for you ? Can you tell us now what will happen now in your carrier, for example your  next release ?
"'YOU!' was a just starting point for us, and now we are writing new material to record into an EP or album, but there are no exact dates yet, we hope to have our next release within 2016. "
What would be your dream as a band ? Do you have special goals to achieve ?
"Maybe play in local and overseas festivals like Clockenflap in Hong Kong. But we don't really have a concrete plan because PHOON started just a few months ago and most of the members are still students. We just hope that we can keep making music even after all members graduate from university! And also we started the record label "Sweaty & Cramped" with our friends in the band Emptybottles. and would like to help build an indie scene and community in Hong Kong!"
We'd like to thank again the band, for giving us time ! We wish you the best for your carrier 🙂