Cliquez ici pour la version française de l'article !
While Yoshiki, famous leader of the legendary band X JAPAN, announced his non-expected and last minute appearance at the festival Japan Expo two weeks ago, the multi-talented artist didn't just show up to say hello – as he does almost every year here – to his biggest fans, he also came for a very special occasion.
We all remember the film We Are X, which made almost everyone cry and told the dark yet flamboyant story of X JAPAN, and this is now a second film that Yoshiki introduced to the audience a few days ago. This announcement was exclusively made on the Yuzu stage at Japan Expo's festival, on Friday 5th, in front of an amazed crowd. The filming started only 3 weeks ago, so there are not much information available on this film as of now. But we already know that this next movie won't be centered on X JAPAN this time, but on Yoshiki's story. We also know that one of the main songs of this upcoming movie is called "Red Rhapsody", which was composed by Yoshiki 7-8 years ago. For this song, Yoshiki was the composer, also the songwriter and pianist, but this is the voice of Katie Fitzgerald that we'll find on it. The full version of "Red Rhapsody" was played for the first time ever in front of Japan Expo's audience, and we learned that this song could have never been released.
But Yoshiki didn't just share some information on Yuzu's stage, he also held a press conference the next day with only a few people. CKJ's team had the honor and the opportunity to participate, in order to talk further about this upcoming film which raised a lot of questions after its announcement. Find out more on this press conference with the full report down below!
You were here two years ago to present We Are X and yesterday you presented a lot of things and played a song off of your next movie. How is this film going to be deeper and darker?
"First of all, Paris is a really special place for me. So, I wanted to do an artistic project here in Paris. This film is about my life. It's not X JAPAN's life. When we were making We Are X, we wanted to go deeper and deeper. Of course I want to talk about X JAPAN too, but I also want to talk about my life and how I exist in this world, without killing myself. I will still have a death wish, but I'm still breathing, I'm still alive. We can not say which studio, but I've been approached since We Are X [for a new film] and several months ago I said 'Let's do it!', so we started shooting. It's going to be released soon."
When you released We Are X, it was really painful for you but now, two years after, do you think it helped you relieving your pain?
"Yes, releasing and making We Are X was really really painful. For some reasons, it was very therapeutical. I cried a lot watching all those funeral scenes, hide's funeral, X JAPAN's last concert. I cried a lot, but every time I cried, the tears were kind of washing away my pain. I was like 'Wow, crying is not that bad'. Again, after We Are X, a lot happened, including my neck surgery. You know drama came after We Are X, I was like 'Okay, maybe let's do that again'. The film can help people.

Also, in terms of music, we were limited to use X JAPAN's songs only in We Are X. We scratched the surface a little bit about how I composed for the 10th year anniversary of the Emperor of Japan's reign. But we didn't go in depth. I also composed the Golden Globes Awards' music, for the 2005 World Expo, and we couldn't get into all those things. I played the full version of the song called 'Red Rhapsody' for the first time here in Paris, yesterday. That also could be part of the soundtrack of this film."
Would you say that your next movie is going to be a legacy of what you are as a human, whereas We Are X was your legacy as an artist?
"It's not like a legacy, I guess. I don't think I achieved something big. I don't think I deserve that kind of legacy, at least yet. (laughs) I'm still a musician suffering, trying hard to get to that level. At the same time, I'm also doing fashion works, charity, I also have my wine, and what else do I do? A lot of things! (laughs) So I'm focusing on those things as well. I'm also trying to break the boundaries between East and West, because there's still a wall and I don't think we achieved that, but we will, I will! I'm just trying to get to that level."
What is your approach for this new movie, especially regarding your father and you fragility?
"So, after the release of We Are X, I had my neck surgery. It's called 'artificial disc replacement', and it was about two years ago. Doctors told me to stop, they told me that I shouldn't play anymore, maybe a little bit of piano but no more drums. They told me I was risking my life, that I could be paralysed anytime, but I decided to go on. So, from that moment I was like 'This is gonna be an interesting story'. To that day, I couldn't play or I would die, but I just decided to go on. So, that's another reason why I thought that maybe it was not a bad idea to film it. At the same time, there are so many things I wanted to talk about in my life that I couldn't before.

I've been travelling around the world for the past few weeks like in Los Angeles, Japan, Shanghai, Taipei, New York, London, Miami, Napa and Paris. So we've been filming this. I didn't know if my life was really interesting but people wanted to know about my life, and how I live. I just talked about something deeper, I think it's gonna be an interesting film. I did a lot of interviews on the plane too cause I spend a quarter of my time up and there. (laughs)"
You're a true helper for a lot of people because you have a lot of courage. Are you in contact with some people who are suffering, or some associations?

"I have a foundation called 'Yoshiki Foundation'. I do charity works, it's part of my life. When I support and help people, it's actually also helping me. Sometimes being an artist, you lose the reason why you exist in this world. But helping people makes me feel real. Charity is very important for me. That's one of the sides of me I wanted to talk about in this film, as well as environmental issues. I'm just an artist, but I can help people notice what's going on in this world. I'm not a scientist, but I think being an artist, I'm kind of responsible to let people know. This film is focusing on my life, so it's about me, but also about environmental issues, life and death. It's not my story as a musician, but my story as a human. Again, through this film I would like to keep supporting people's life. I met a lot of my fans who feel pain inside or physically, but they keep on going. I'm the same here, so I said 'Let's keep on going'. If I can emphasise these life issues in this film, that would be great."
Did you compose new songs for your new movie, another one we don't know about?
"The song I played yesterday called 'Red Rhapsody', I'm thinking this song to be one of the main songs for this film. But, I'm full of surprises! (laughs) I have a lot of projects I'm working on, I've also been composing a lot of music on the plane, that's the place where I can concentrate. When I compose music, I just write scores. A lot of things are happening. I think I'm doing this because X JAPAN's album is pretty much done. So, there may be a few tweaks, but it's done. In terms of X JAPAN, I'm looking for the timing. I just want to release the album because we spent over 10 years recording it. I just want to throw it onto the market. I'm trying to find the best timing. I have an instinct, always. At the same time, a lot of things have been happening to me too. Even negative things can be good things. Just focusing on how I had to have a neck surgery, or whatever accident, I always wondered why it happened to me. But it depends on how we think about it. Things are not happening to you, they happen for you. I do this film because a lot if things happened but we can make things great. In terms of music, pain that happened to me, even death, I composed from it. There are a lot of surprises coming in the next few weeks and the next few months.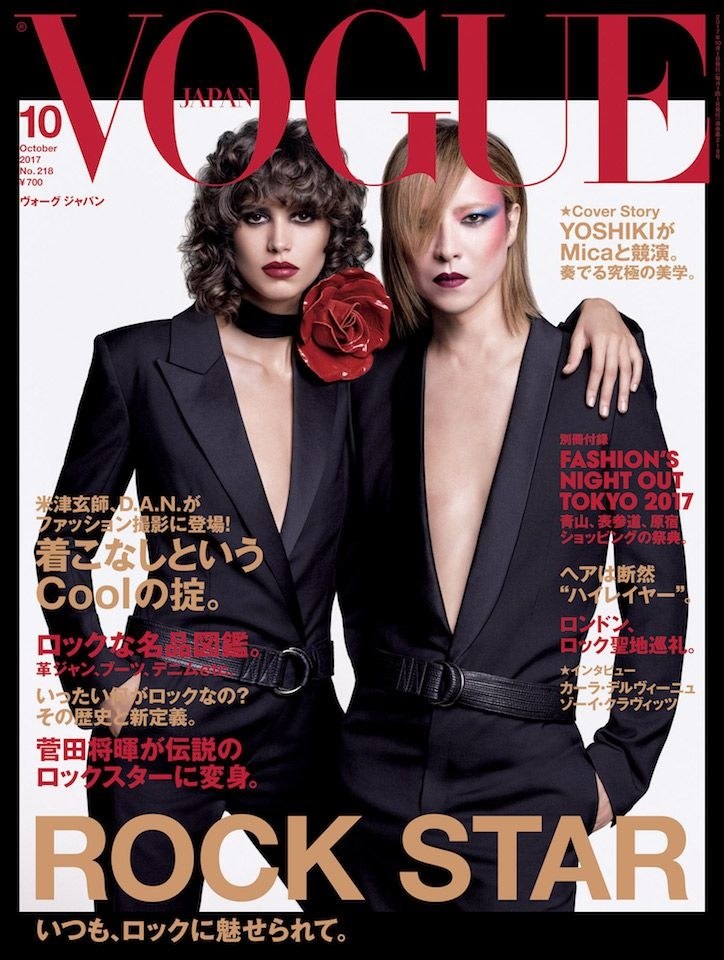 France is actually the first country I came to outside of Japan, a long time ago. Who would have thought so many years later I could perform in front of thousands of amazing fans in France? But life is just full of surprises! I never thought I could have an interview in front of you, I feel very honoured!

It's very interesting, but right after my neck surgery there was a magazine calling me to be on the cover. I had done like 500 covers before, but never in this magazine. I was the first Japanese man to be on the cover of the Japanese Vogue. And I wondered why it was happening to me. By the way, I was still bleeding because they cut my throat during my neck surgery, and they did amazing Photoshop. (laughs) So I thought that maybe it was because of my neck surgery that I got attention and I could be on this cover, because people were talking about it. I don't know, I'm just trying to think positive. (laughs)"
It seems like you're going back to your classical music roots, is it going to be shown in the movie?
"I started playing the piano when I was 4 years old, so most of my life I've been doing classical music. But I also love rock and everything in between. I think I have a lot of projects I haven't even announced that I've been working on. I became the music director of the upcoming film called xXx starring Vin Diesel. I'm also working on a theme song for an animation movie called Spycies, which will be in the theaters in China this fall. Everything will be revealed in the next few weeks, including me producing with several artists.

I love to play the piano, so people expect me to do a lot of classical music, but I'm actually doing a lot of different things, like working with Marilyn Manson. I do pretty big interesting rock projects, a lot of soundtracks. So yeah, I love classical music too."
About your song "Red Swan", can you tell us more about it ?
"People from Attack on Titans asked me to write a theme song. Then, I asked them 'Do you want X JAPAN, or Yoshiki?' and they were not 100% sure. I said 'Let me write a song anyway', so it could either come as a X JAPAN's song or a Yoshiki's song, I just wanted to write the song first. When I started writing, I thought that this could be a X JAPAN's song too. Of course, I talked to every single member of X JAPAN, and nobody was negative. Then, I had dinner with one of my good friends HYDE from L'arc~en~ciel, we were talking, I asked him if he was interested in the song, and he said 'Sure'. The timing was very interesting. I asked Toshi too, but the timing didn't match. Then, to see if they liked the song or not, I sent a demo with the first 60 or 90 seconds, and asked them if I should go in this direction. They liked it so I said 'Okay, let's do this'.
I know it's a little bit controversial but when it comes to hip-hop or EDM, artists always collaborate, somebody is always featuring someone. So, why couldn't it be the same with rock artists? Maybe people will start doing this. This is how their music scene has gone bigger. Rock artists are always on their way, by themselves, but I think in the future people will start collaborating more and more. At least, I'm doing this too. You will see more collaborations coming in the future! In the end, it's a little bit for the band. I would like my fans to understand that it's not something I'm doing for selfish reasons, but I also want to stimulate the rock market. Rock has never been that big, and if you look at the charts in America, top 10 or top 200, you barely see any rock, but we belong too. I want to change that, I want rock bands to come back to the charts as well. Maybe this will stimulate the drama too, but I think collaborations is another element for the future.
You said yesterday at your concert that you will come back in France soon with X JAPAN for a huge concert, do you have some more information?
"As of now, we have to decide when to release the album, and then to decide when we can tour. So, I do not have any information to tell you yet, but hopefully soon we can talk about that too."
Do you have a message for your French fans?
"Yes! Again, thank you so much for the support, I don't know how many times I've been here at Japan Expo, 5 or 6 times? It's always nice to come back here and to see my fans. When I see my fans, they give me a reason to keep on going. For example, people told me yesterday I helped them to live, but at the same time they help me to live. As long as I live, I'd like to create great music to support them, and I can't wait to see my fans in France again!"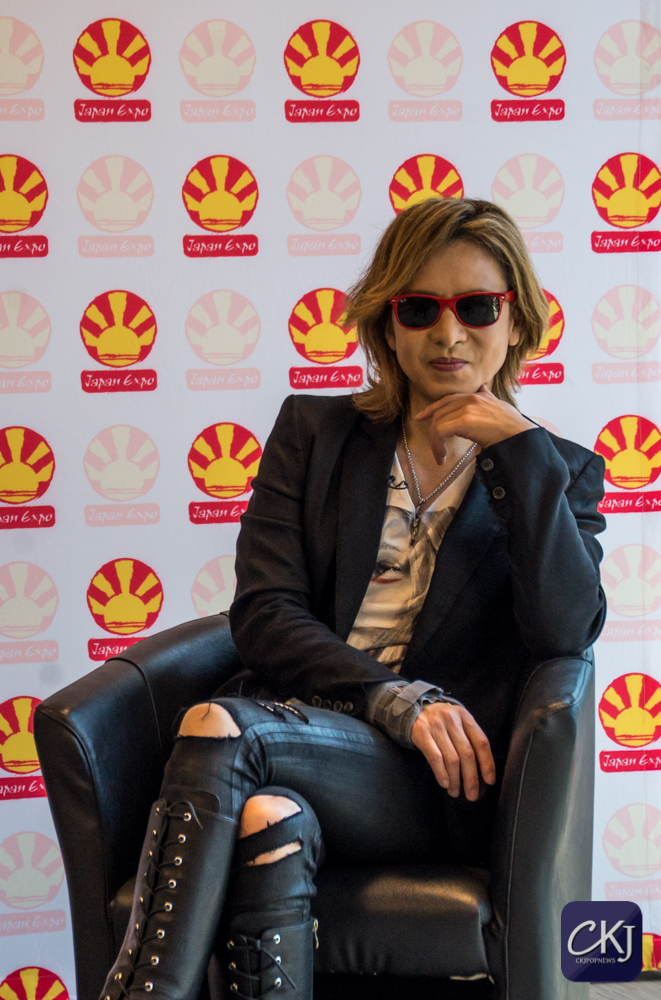 We would like to thank Japan Expo for this wonderful opportunity, and also Yoshiki and his team for their precious time and this interview despite their busy schedule!