L'interview de Shonen Knife est disponible en français en première page !
Nowadays, rock bands would learn a lot from Japanese veteran female rock bands! Kurt Cobain admired them, and we definitely know the reason why. Shonen Knife was formed in 1981 by Naoko and one of her friends, and was quickly joined by her sister and other talented musicians who were passionate about a music genre that was completely contrasting with the Japanese society of that time. Through many challenges, these women who became legends left a mark on the rock scene and proved that punk music is not only for men!
Shonen Knife currently consists of Naoko, Atsuko and Risa, the drummer who is the youngest and has more energy than ever. They met the French audience in Paris last month, at the Petit Bain, during a show organised by Voulez-Vous Danser.
Before the show, CKJ's team had the opportunity to interview the band, so check it out!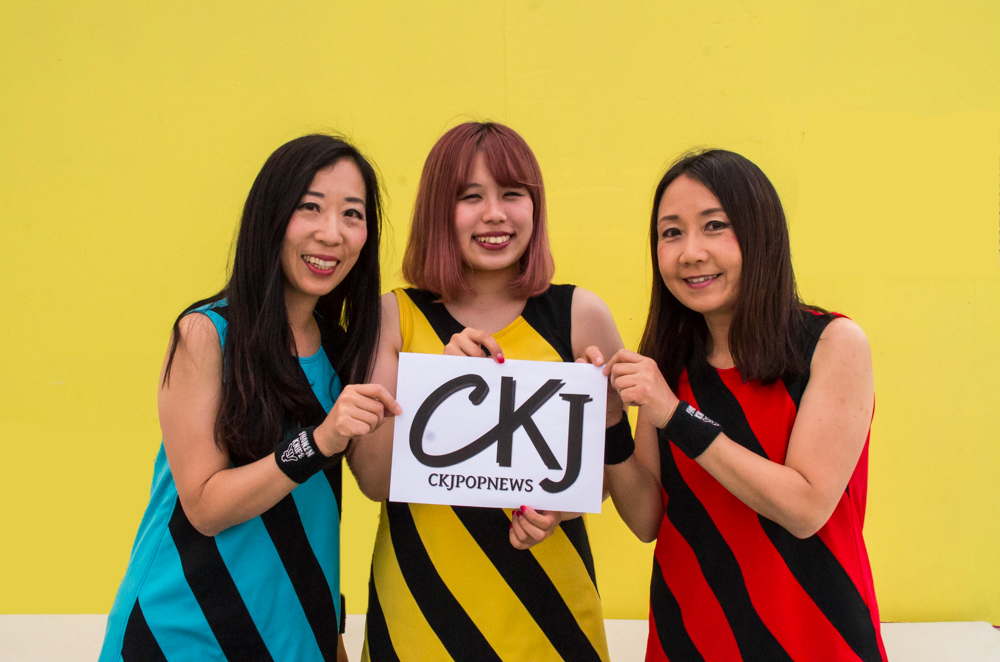 Hi, could you introduce the band ? 
Naoko: We are Shonen Knife, formed in late 1981. Since then, we have been keeping on making music and touring all around the world.
How did you end up all you three together?
Naoko: At first, we had a former bassist. She and I went to the same college. We became friends. We wanted to do something interesting: she chose the bass when I chose the guitar. I looked for a drummer. I asked my younger sister Atsuko to be the drummer.

In 1999, our bassist left the band. Atsuko, the drummer, switched to the bassist role. Then, after some changes about the drummer position, our drummer Risa joined the band three years ago. She was in a family band she formed with her younger sister and her father, and they covered Shonen Knife's songs. She was playing drums really well. When our former drummer quit, we asked her to be our drummer.
Has music always been like a dream of yours?
Naoko: Hmm… Yes, of course! I was a big fan of rock music, especially 70's British rock and American rock. Recently, I've been listening to – not only hard rock – but soul, disco music too, but anyway, I like rock music. If I make songs, and people get happy, music is my pleasure.
If someone doesn't know you, which one of your songs would you recommend to introduce your band?
Atsuko, Naoko: Everything! (laughs). It's really hard to chose. Maybe "Riding on the rocket". It's rock but it's also kind of cute, powerful. Everything is included in this one.
You are talking about a lot of things in your songs, what are your two favorite subjects?
Naoko: Mainly food and animals. Recently, we liked singing about food. Singing about food is very funny!
Do you like to eat?
Naoko: Yes! (laughs) We always like to eat.
Which japanese food would you recommend?
Naoko: I smell Japanese food, the Japanese pancake, the okonomiyaki. The smell reminds me of okonomiyaki (laughs). We also like curry rice, and udon noodle soup.
Japanese culture has been really huge for years now in France. What do you think about foreign people getting interested in Japan?
Naoko: I'm very happy that many foreign people get interested in japan, especially in the culture. We have a very long history and old things. For example, in Kyoto, there are many temples and beautiful art. But we have a popular culture, like manga or anime or video games. So I hope that all the people in the world enjoy that.
You are keen on British and American rock music, and as women, you have a lot of influence around the world, especially for some bands. How do you feel about it?
Naoko: I have been influenced by 70's music. And if people nowadays are inspired by Shonen Knife, it is [rooted] in rock history, so rock history will continue for ever.
You were born in Osaka, can you tell us a bit about Osaka? How did you experience your life there, in your songs ?
Naoko: I think that people from Osaka are very friendly and we can also find delicious food there, for a cheap price. Tokyo is the center of Japan. In Tokyo, many people from countryside gather together. In Osaka, they are not too strict. Recently, we have seen a lot of people from all over the world, especially from Asia, so I think that it is a very good place.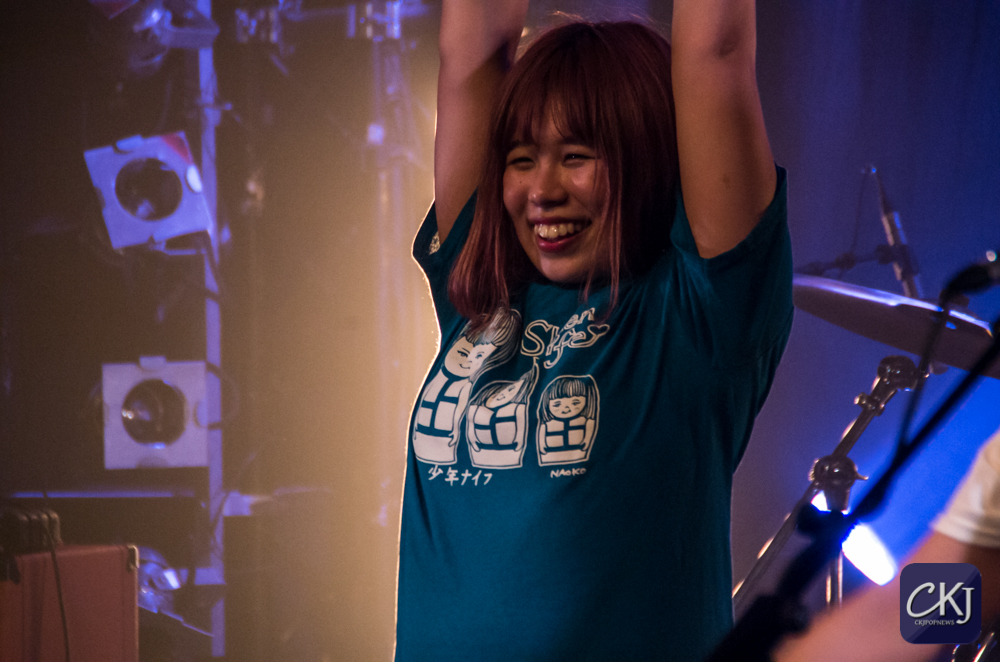 Is there anything you are particularly curious about, in French culture?
Naoko: I feel like French people don't listen to rock music so much.

CKJ: That is true.

Atsuko: I like fashion, so I have studied fashion. I made these stage outfits. So I like Paris.

Naoko: Atsuko and I are playing tennis. We love that ! More than ten years ago, we came to watch Roland-Garros. Tennis is very good in France!
What are you planning to do after this tour?
Naoko: We will hold three shows in Japan and after those, we will go to the United Kingdom for two weeks, and then we will come back to Japan and go to North America for 5-6 weeks, and then we will come back again to Osaka, and go to Australia and New Zealand. (laughs) We can say it is a world tour!
How do you imagine Shonen Knife in ten years?
Naoko: I don't know if I will be alive or not! (laughs). But if I have enough strength, I would like to keep on playing with the band, and making music.
Is there any special project you would like to do in the future?
Naoko: About the very near future, we will release our new album titled "Sweet Candy Power" in June. After the release, we will do a worldwide tour. Then, I might start writing songs again.
Are you planning to play some of your brand new songs tonight?
Naoko: We will play some from our new album!
Do you have a last message for your readers?
Naoko: It is very rare to come to France for Shonen Knife, but I hope that many people will listen to our music. We would like to come back to France and Paris again, more and more.
Do you know some words in French?
Naoko: Où sont les toilettes ? (laughs) [editor's note: It means "Where are the toilets?"]

Atsuko: Du café au lait s'il vous plaît ? [editor's note: It means "Milk coffee please?"]

CKJ: It's always useful!

Risa: "Bonjour" and "Merci".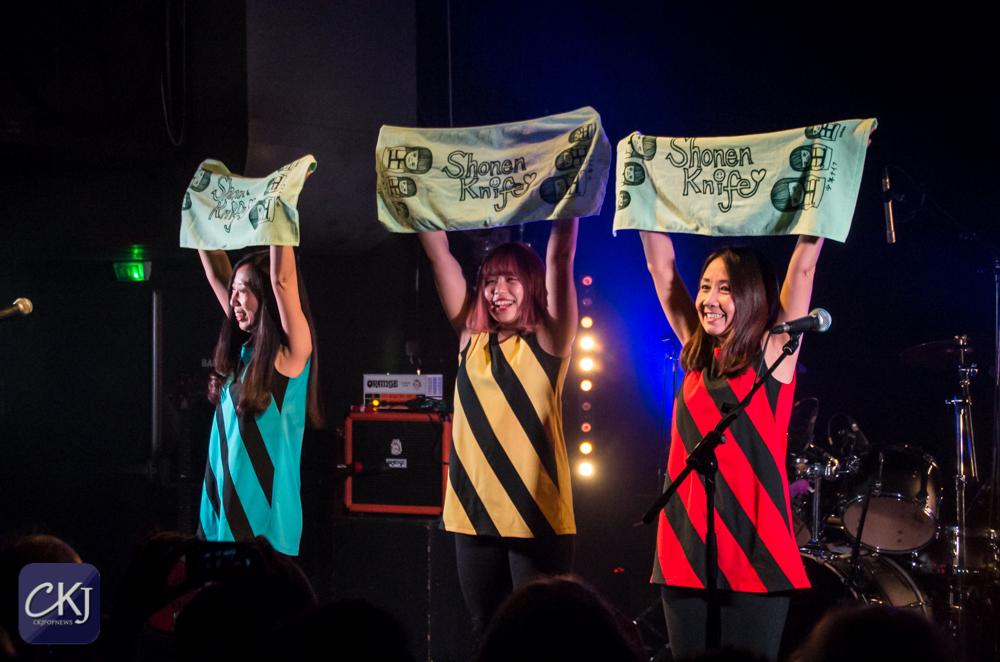 We would like to thank Voulez-Vous Danser and of course Shonen Knife for this super great show!
---
Pictures from their show at the Petit Bain: